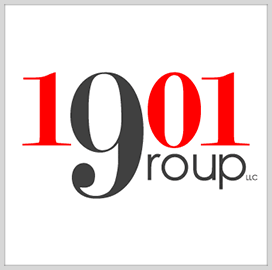 1901 Group
1901 Group, Zscaler Partner on Zero Trust, Cybersecurity for Federal Agencies
The 1901 Group, an information technology service and solution provider, has partnered with Zscaler to achieve zero-trust security and enhance cybersecurity offerings.  
According to 1901 Group, the Zscaler Zero Trust Exchange cloud platform will help in delivering secure and reliable telework capabilities to government customers. 
"1901 Group is proud to provide federal agencies with cybersecurity managed services that leverage Zscaler technologies designed to enable a mobile-first workforce to protect agency missions and agency personnel, especially in the hybrid IT environments of our new normal," said Brendan Walsh, 1901's senior vice president of partner relations.
Enterprise-wide remote work capabilities have become more important for federal agencies as they continue to migrate to the cloud and modernize their IT infrastructure, 1901 Group said.
The company added that it will provide scalable and secure connections using the combination Zscaler Internet Access, Zscaler Private Access and 1901 Group offerings. 
ZIA was designed to provide a secure connection from a user's endpoint to a security stack that sits inline to the internet. The service has achieved Federal Risk Authorization Management Program "In Process" status at the High Impact Level.
ZPA is a zero-trust remote access service that, according to 1901 Group, securely connects authorized users to agency-approved private applications in a zero-trust environment. 
"Security is a critical priority to federal agencies as they shift to a distributed and mobile workforce and expand to support classified information," said 1901 Group Executive VP Paul Wilkinson. 
1901 Group is an IT and services company headquartered in Reston, Virginia. The organization specializes in managed infrastructure, applications and security services, among others. 
Category: Partnerships and Executive Moves
Tags: 1901 Group Brendan Walsh cybersecurity FedRAMP FedRAMP In Process IT infrastructure IT Modernization partnership Partnerships and Executive Moves Paul Wilkinson Zscaler Zscaler Internet Access Zscaler Private Access Zscaler Zero Trust Exchange