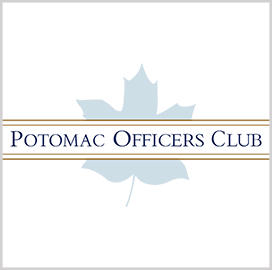 Jim Garrettson hands
Wash100 award to John
Goodman of AFS
Accenture Federal's John Goodman Wins Third Straight Wash100 Award From Executive Mosaic
John Goodman, chief executive officer of Accenture Federal Services, received his third Wash100 award from Executive Mosaic for his contributions to the government contracting industry.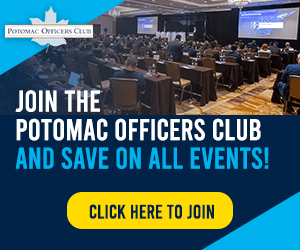 Executive Mosaic CEO Jim Garrettson presented the award to Goodman in recognition of his information technology efforts within federal agencies, innovations for emerging technology and excellent customer satisfaction.
In a recent interview, Goodman underscored the importance of using technology to spur the mission of the agency and to enhance the customer experience. He added that companies must provide their employees with skills and training to be able to effectively use emerging technologies such as artificial intelligence.  
Goodman supports the Federal IT Acquisition Reform Act, noting that the regulation assists federal chief information officers to become innovation partners and agencies to be more focused on IT modernization efforts to enhance government services. 
He leads the business unit that serves clients in the federal government market, including the defense, intelligence, public safety, health and civilian sectors. 
Goodman joined Accenture in 1998 and has held various leadership roles, including managing director for the defense and intelligence portfolio, management consulting head for the global public service operating group and chief operating officer for federal services. 
Previously, he spent five years in the federal government, serving in various capacities, including deputy undersecretary and deputy assistant secretary at the Department of Defense's Industrial Affairs and Installations and a member of the staff at the National Economic Council, the White House office in charge of the coordination of economic policy. 
A member of the Council of Foreign Relations, Goodman earned his bachelor's degree, summa cum laude, from Middlebury College and his master's and doctorate degrees from Harvard University. 
Wash100 is an annual selection of the most influential personalities in government contracting. The award honors executives and government officials who have demonstrated skills in leadership, innovation, reliability, achievement and vision in the sector.
Category: Popular Voices
Tags: Accenture Federal Services Executive Mosaic information technology modernization Jim Garrettson John Goodman Popular Voices