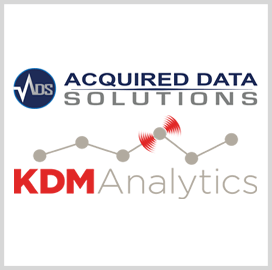 Acquired Data Solutions
and KDM Analytics
Acquired Data Solutions Forms Blade RiskManager Distribution Partnership With KDM Analytics
Acquired Data Solutions has entered into a partnership with KDM Analytics to deliver a cyber risk analysis and risk measurement product to federal government clients and equipment suppliers. 
The artificial intelligence-powered tool, called Blade RiskManager, is built with a ten-year cybersecurity knowledge base, providing users with a one-stop source capable of storing, managing and tracing all evidence relative to operational and system risk. By precisely focusing risk-assessment sources, the BRM tool facilitates improved decision making and offers users with time and cost savings when complying with a National Institute of Standards and Technology Risk Management assessment, Intelligence Community News reported. 
Steve Seiden, president of Acquired Data Solutions, said the partnership enhances his company's ability to ensure that operational technology develops maturity at par with information technology cybersecurity. As Seiden noted, OT devices' exposure to the internet has brought about new risks, particularly to critical national infrastructure providers. 
Additionally, Seiden said partnering with KDM Analytics enables Acquired Data Solutions to help its customers across the federal government comply with the requirements of the Department of Defense's Cybersecurity Maturity Model Certification and the NIST RMF. 
The CMMC, which is slated for initial implementation within the year, is DoD's attempt to improve information protections amid increasing cybersecurity threats. It is a prerequisite for defense contractors that requires them to comply with certain levels of cybersecurity standards to ensure cyber preparedness. 
Established in 1997, Acquired Data Solutions provides engineering life cycle solutions to customers in the federal and commercial sectors. The company leverages 20 years of experience in testing, integration, automation and cybersecurity to improve its customers' development environment, manufacturing process and product and system quality.
KDM Analytics is a computer software company based in Ottawa, Canada, that offers cybersecurity support services, including cybersecurity assessment, risk consulting and training.
Category: Partnerships and Executive Moves
Tags: Acquired Data Solutions artificial intelligence Blade RiskManager cyber risk analysis cybersecurity Cybersecurity Maturity Model Certification Department of Defense Intelligence Community News KDM Analytics NIST Risk Management Framework partnership Partnerships and Executive Moves Steve Seiden