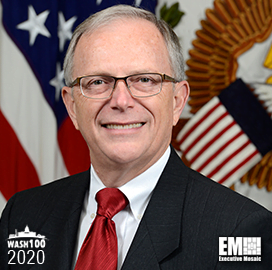 Bruce Jette
Acquisition Chief: Army Should Focus on New Technologies to Reduce Long-Term Costs
The Army should advance new technologies to reduce long-term costs and bring back long-term economic forecasting techniques. according to the service's acquisition chief.
Bruce Jette, the Army's acquisition executive and a 2020 Wash100 awardee, said the service should focus on technologies like 3D printing and modular upgrades to make up for the budgetary impact of the coronavirus pandemic. 
He said the Army is gathering additional data in case it is required to prioritize projects later due to changes in budget profiles, Breaking Defense reported Monday.
"I have to have a much longer view of the battlespace, the economic battle space. The objective is to lay a foundation upon which we can take a serious look at what the long-term implications of owning a piece of equipment," Jette added. 
Congress is still considering the Army's 2021 budget request, which includes a five-year general plan involving hypersonic and intermediate-range missiles. 
Jette said the Army should consider how its weapons can be upgraded in the long-term instead of focusing on ones that are running out of room for upgrades. 
"If we don't think about how it's going to be enhance-able, upgradable and modified for different uses over a period of time, we're missing things, because we do keep them for 30, 40 years," he said.
Jette added that the Army will continue pursuing its 34 top-priority programs despite the expected budget cuts. The programs will only progress from prototypes to mass production in the second half of 2020, after which they will continuously upgraded over the decade, he added.
Thirty-one of the programs are handled by the Army Futures Command and range from intermediate-range missiles to smart rifles. 
The other three belong to the independent Rapid Capabilities and Critical Technologies Office and involve hypersonic missiles and two types of missile defense lasers. 
Category: Popular Voices
Tags: 3D printing Breaking Defense Bruce Jette hypersonic Popular Voices U.S. Army