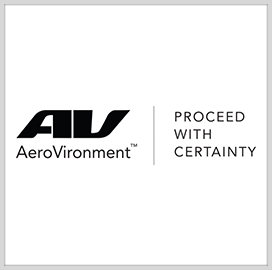 AeroVironment Lands $76M Contract to Deliver Switchblade Missile System to Army
AeroVironment will deliver its proprietary Switchblade loitering missile system to the Army under the terms of a one-year, $75.9M contract, effectively extending the company's partnership with the service branch. 
The company will fulfill the contract requirements alongside Northrop Grumman, which equips Switchblade with single purpose and multimode warheads.
Switchblade is a back-packable and rapidly deployable precision strike missile that allows warfighters to hit beyond-line-of-sight targets situated as far as 6 mi from its launch locations, AeroVironment said.
In terms of lethality, Switchblade is said to guarantee minimal to no collateral damage on the battlefield, owing to its high precision, specialized effects and wave-off feature. It also comes with an infrared camera, as well as dual forward and side look electro-optical cameras that help provide warfighters with real-time global positioning system coordinates and video for information gathering, targeting or feature/object recognition. Additionally, Switchblade is designed with a small form factor and quiet electric motor to limit detection from adversaries even at close range. 
"We will continue to enhance the capabilities of this battle-proven product, and stand ready with a proven supply chain and customer support system in order to respond effectively to U.S. and allied customers' needs," Brett Hush, AeroVironment senior product line general manager of Tactical Missile Systems, said.
AeroVironment is scheduled to begin Switchblade deliveries in September. If all options are exercised, the contract's period of performance would be extended until April 2023. Funding for the first year of procurement of Switchblade was provided by a Joint Urgent Operational Need Statement from the Army Tactical Aviation and Ground Munitions project office. 
Category: Contract Vehicles
Tags: AeroVironment Contract Vehicles Lethal Miniature Aerial Missile Systems LMAMS Switchblade Tactical Aviation and Ground Munitions TAGM U.S. Army UAS Unmanned Aircraft Systems