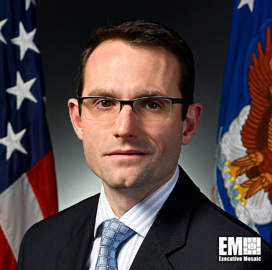 Will Roper
Air Force Acquisition Czar Wants Data Analytics, AI Firms Onboard for ABMS
Will Roper, assistant secretary of the Air Force for acquisition, technology and logistics, is setting his sights on partnering with commercial firms specializing in data analytics, machine learning and artificial intelligence to foster the service's Advanced Battle Management System.
The goal is to award ABMS contracts to high-priority firms within a month to six weeks, Roper said, noting that there have only been about a dozen companies employed to help with the joint system, including major defense contractors such as Northrop Grumman. 
According to Roper, the Air Force is keen on welcoming non-traditional defense companies in the ABMS competition pool, as evidenced by the service's three broad agency announcements. The 2020 Wash100 winner believes firms that are knowledgeable in data analytics, machine learning and AI have a lot to contribute to the ABMS effort, Breaking Defense reported.
The service hopes to award a slew of contracts in time for the second ABMS On Ramp exercises, which were rescheduled for Aug. 31 through Sept. 4 due to the COVID-19 pandemic. Roper expressed optimism that the planned space-oriented exercises would demystify ABMS, as the Air Force has been grappling with criticism regarding the project's development and acquisition processes.
One of the service's main critics, the Government Accountability Office, recently released a report detailing the lack of necessary ABMS documents, including cost and schedule estimates. The watchdog also slammed the Air Force's ABMS architects for their unclear approach as to how they intend to actualize the widespread joint force adoption of the system, according to a Breaking Defense report.
The ABMS is a core component of the multi-service Joint All Domain Command and Control concept. It is a family of systems that is expected to primarily manage and rapidly move data and information to decision-makers, Roper said.
Category: Popular Voices
Tags: Advanced Battle Management System artificial intelligence Breaking Defense Broad Agency Announcements data analytics David Kumashiro internet of things JADC2 Joint All-Domain Command and Control machine learning Northrop Grumman Popular Voices U.S. Air Force Will Roper