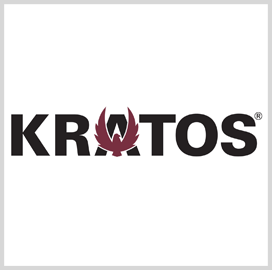 Kratos
Air Force Awards $400M Skyborg Support IDIQ to Kratos
Kratos Unmanned Systems Division, a unit of Kratos Defense & Security Solutions, is set to provide support services for the Air Force's Skyborg program under the terms of a five-year indefinite-delivery/indefinite-quantity contract with a maximum ceiling of $400M. 
Services provided for the contract will specifically support the development, integration and prototype air vehicle delivery of Skyborg drones. Contract work will be performed in Oklahoma and California over the next five years, Kratos said.
Steve Fendley, president of Kratos Unmanned Systems Division, expressed pride in the company's selection as a prime contractor for the Air Force's Skyborg program, which he believes will allow the Department of Defense to more cost-effectively increase the volume and effectiveness of its aircraft fleet compared to traditional aircraft programs. Fendley also acknowledged the central role that Skyborg drones play in maintaining the country's technological dominance and readiness for future aircraft-based warfare as part of the Air Force Vanguard program.
According to Eric DeMarco, president and chief executive officer of Kratos Defense, the Skyborg mission coincides with the company's plan to be a disrupted leader in delivering affordable systems to the DoD and other national security customers. 
Established in 1994, Kratos specializes in providing national security solutions by adopting commercial and venture capital-backed approaches, including proactive research and streamlined development processes. Other than unmanned systems, Kratos develops microwave electronics, missile defense, hypersonic systems, combat systems and next-generation turbojets.
Category: Future Trends
Tags: Eric DeMarco Future Trends IDIQ Kratos Defense & Security Solutions Kratos Unmanned Systems Division Steve Fendley U.S. Air Force U.S. Air Force Skyborg