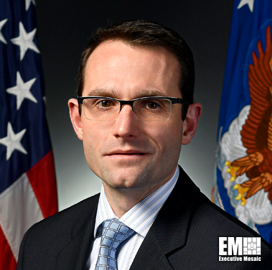 Will Roper
Acquisition executive
Air Force
Air Force Awards Eight Spots on $950M ABMS Contract
The Air Force has awarded eight spots on its $950M contract for the Advanced Battle Management System in an effort to use emerging technologies for cross-domain linking. 
The eight companies are ARES Security, AT&T, Centauri, Cogniac, NanoVMs, Pacific Defense, SRC Inc. and Systematic. In total, there are now 50 companies that have spots in the indefinite-delivery/indefinite-quantity contract vehicle, FedScoope reported Wednesday. 
"With ABMS we are stretching the limits of possibility for both joint all-domain operations and for defense acquisition. To overcome technically sophisticated adversaries, our forces need relevant data at machine speeds. ABMS is building a militarized Internet of Things to deliver it," said Will Roper, the Air Force's chief acquisition officer.
Roper, a 2020 Wash100 awardee and a past Potomac Officers Club event speaker, said the ABMS program is also aimed at helping the Department of Defense gather data to be used to train artificial intelligence-powered weapons.
Companies on the ABMS contract will be allowed to compete for an extensive range of task orders and work. The ABMS is envisioned to serve as an open-architecture family of systems that enable capabilities across multiple integrated platforms. 
"The ABMS acquisition strategy is designed to spur competition and streamline the contracting process to the 'speed of relevance' – weeks instead of months, months instead of years," the Air Force said in a separate announcement. 
According to FedScoop, pursuing efforts like ABMS and using emerging technologies have been at the forefront of the Pentagon's modernization effort, which is part of its bid to compete against China and Russia. 
The Air Force will reportedly continue to award spots on the nearly $1B contract vehicle starting in the near future.
Category: Speaker News
Tags: acquisition executive Advanced Battle Management System AI ARES Security artificial intelligence AT&T Centauri Cogniac contract award contract vehicle Department of Defense emerging technology FedScoop IDIQ contract internet of things modernization NanoVMs Pacific Defense Pentagon Speaker News SRC Inc Systematic U.S. Air Force Will Roper