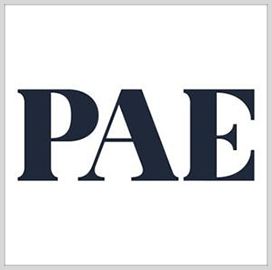 PAE
Air Force Awards PAE Two Aircraft Maintenance Task Orders
The Air Force has awarded PAE two task orders with a consolidated value of $151.8M to support aircraft maintenance at Navy and Army military installations.
The first task order, valued at $95.7M, requires PAE to improve the readiness of aircraft housed at the Naval Aviation Maintenance Center for Excellence at Naval Air Station Lemoore in California. It also calls for the reconstitution of logbooks, documents and records, as well as corrosion treatment and prevention and maintenance interval inspections through November 2023, PAE said. 
Work for the task order supports the NAMCE's goal of improving the readiness of F/A-18E/F fighter jets under Strike Fighter Wing Pacific.
According to PAE President and Chief Executive Officer John Heller, a 2020 Wash100 winner, the company was well-positioned to fulfill the services outlined in the NAS Lemoore task owing to its aircraft maintenance service solution model.
The second task order, estimated at $56.1M, focuses on providing field and sustainment-level maintenance for AH-64, CH-47 and UH-60 helicopters deployed in the Army Pacific's bases in Alaska, Hawaii and Korea. The task, which is expected to be completed in January 2023, expands PAE's aircraft maintenance operations to support 268 Army Pacific aircraft, Heller said.  
The two tasks were awarded under the $11.4B Air Force Contract Field Team Services indefinite-delivery/indefinite-quantity services contract.
Since its establishment in 1955, PAE has provided solutions to the U.S. government and its allies. The company has a 20K global workforce spread out across 60 countries to deliver aviation services, capacity-building and stabilization, critical infrastructure, expeditionary logistics, identity and information management solutions, integrated security solutions, test and training ranges and training solutions.
Category: Contract Vehicles
Tags: Army Pacific contract award Contract Vehicles IDIQ contract John Heller Naval Aviation Maintenance Center for Excellence PAE U.S. Air Force Contract Field Team Services