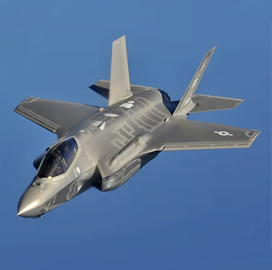 F-35A
Air Force Buys Eight Lockheed F-35As Under $862M Deal
The Air Force has awarded Lockheed Martin an $861.73M modification for eight Lot 14 F-35A conventional takeoff and landing jets in the wake of Turkey's removal from the F-35 program. 
Lockheed's deal also includes six additional F-35As built for the Air Force and modifications that reconfigure the Turkish jets to align with U.S. standards, Defense News reported Tuesday.
The company was originally supposed to deliver the aircraft to Turkey as part of an $862M contract modification. Turkey, which planned to buy 100 F-35As, was ejected from the program for accepting the S-400 air defense system from Russia.   
Turkish pilots and aircraft maintainers had already been training to fly and fix the F-35As at Luke Air Force Base, Arizona, and Eglin Air Force Base, Florida.
Work under the new contract is expected to be completed by May 2026. Obligated funds worth $848.89M were taken from the Air Force's aircraft procurement funds, the Department of Defense said.
Places of performance include Fort Worth, Texas; El Segundo, California; Warton, United Kingdom; and San Diego, California.
 A Pentagon official told Defense News that the contract fulfills Congress' provisions in the fiscal year 2020 defense policy and spending bills. 
The 2020 version of the National Defense Authorization Act cleared the DOD to spend up to $30M to fly the first six Turkish F-35s at a location where they could be stored until they have a use.
The Senate's pending 2021 NDAA includes additional language that would allow the Air Force to accept, operate and modify the first six Turkish F-35s. 
Category: Contract Vehicles
Tags: Contract Vehicles Defense News Department of Defense F-35 program Lockheed Martin Luke Air Force Base NDAA Pentagon Turkey Turkish F-35s U.S. Air Force