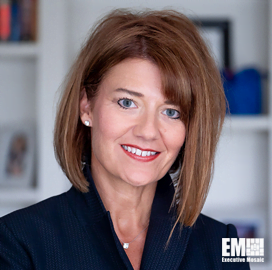 Tina Dolph
President and CEO
SGT
Air Force Selects Siemens Teamcenter as System of Record
The Air Force will use Siemens' Teamcenter software as the foundational system of record to support the service's digital acquisition and sustainment strategy for critical systems and technologies. 
Siemens Government Technologies President and CEO Tina Dolph, a Potomac Officers Club member and two-time Wash100 awardee, said Teamcenter will improve the Air Force's speed and agility in fielding new capabilities while reducing operational costs and improving readiness.
"By providing the Air Force and other defense agencies with a robust enterprise PLM solution, time-sensitive and actionable data can be accessed across the earliest phases of a system lifecycle, Dolph said.
Part of Siemens' Xcelerator portfolio, Teamcenter is an adaptable product lifecycle management system designed to provide a digital thread for users across functional silos, Siemens said Tuesday. 
Teamcenter lets its users take control of product data and processes, including 3D designs, electronics, embedded software, documentation and bills of materials, according to Siemens' product page. 
The tool is useful in domains and departments such as manufacturing, quality, cost engineering, compliance, service and supply chain, the company added. 
Siemens said Teamcenter uses Xcelerator to provide the Department of Defense and the aerospace and defense industry with the ability to integrate disparate data silos and conveniently share product performance details. 
The Air Force deal follows a $24.6 million indefinite-delivery/indefinite-quantity contract award for licensing, maintenance and support, the company said. 
Siemens is a global technology company that specializes in intelligent infrastructure for buildings and distributed energy and on manufacturing automation and digitalization. 
The company's other specialties include electrification, artificial intelligence, internet of things, cybersecurity, infrastructure and mobility.
Category: Member News
Tags: acquisition Air Force Department of Defense digitalization engineering Member News SGT Siemens Teamcenter Tina Dolph Wash100 Xcelerator