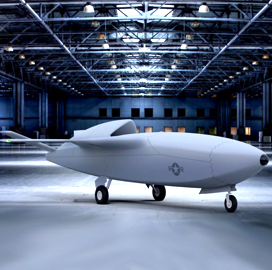 Skyborg concept
Air Force Taps Four Defense Contractors to Build Skyborg Drones
Four companies, namely Boeing, Northrop Grumman, General Atomics and Kratos, have received $400M indefinite-delivery/indefinite-quantity contracts from the Air Force for the production of autonomous, artificial intelligence-driven Skyborg drones. 
No funding has been obligated for the contracts, however, since all four companies will need to compete for future Skyborg orders. 
Specific requirements have been laid out by the Air Force with regards to the development of the Skyborg drones, which mainly involves striking a balance between affordability and survivability, DefenseNews reported.
The Air Force envisions a fully built Skyborg drone to demonstrate strong enough survivability to provide high-end combat support and function as a wingman to manned fighter jets while being cheap enough so that its destruction would still be sustainable for the service. 
The Skyborg drones would initially be deployed in open mission systems to demonstrate their viability in providing support to manned fighters.
Air Force Research Laboratory Commander Brig. Gen. Heather Pringle said Skyborg drones will feature autonomous technologies that would enable simple play-book algorithms, advanced team decision making and on-ramp opportunities for artificial intelligence technologies.
Moving forward, the Skyborg program could serve as a blueprint for a layered, autonomous and open-architecture based unmanned aircraft system fleet, Pringle added.
Brig. Gen. Dale White, the head of the Air Force's program office for fighters and advanced aircraft, is also convinced that the autonomous nature of Skyborg drones can significantly expand warfighting capabilities and serve as a force multiplier for the service. 
In the long-term, Air Force acquisition executive Will Roper, a 2020 Wash100 winner, believes that Skyborg drones could have the potential to autonomously present information and perform tasks that would free up fighter pilot workload.
Category: Contract Vehicles
Tags: artificial intelligence autonomous air vehicle Boeing contract award Contract Vehicles Dale White Defense News General Atomics Heather Pringle IDIQ contract Kratos Northrop Grumman Skyborg U.S. Air Force UAS unmanned aerial systems