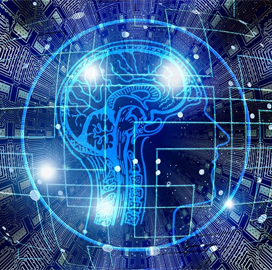 Artificial intelligence
Air Force to Operationalize 'Skyborg' in 2021
The Air Force is preparing to work with industry in 2021 to a build fleet of relatively inexpensive robotic wingmen armed with artificial intelligence capabilities, according to the Air Force's acquisition chief. 
Will Roper, a past Potomac Officers event speaker and a three-time Wash100 winner, said the "Skyborg" program is one of the service's top technological priorities under its "Vanguard" initiative. 
"I expect that we will do sorties where a set number are expected to fly with the manned systems, and we'll have crazy new concepts of operation for how they'll be used," Roper said during an event hosted by the Mitchell Institute for Aerospace Studies. 
He said unmanned systems will provide the Air Force with the option to fly aircraft in suicide missions over "lucrative targets" and take risks unacceptable with human pilots.  
While Skyborg aircraft are considered "attritable" – cheap and expendable – Roper said he plans to treat them as reusable weapons and purchase them as such.
"I expect that the human pilots … will decide, does the Skyborg return and land with them and go to fight another day, or is it the end of its life and it's going to go on a one-way mission?" Roper said.
In May, the Air Force awarded Leidos a $29M contract to design the Skyborg system and integrate various mission systems. 
Leidos Chairman and CEO Roger Krone, a Potomac Officers Club member and a seven-time Wash100 winner, said his company's participation "helps us in many areas with autonomy, with systems engineering."
The Air Force reportedly plans to buy as many different types of prototypes in as much quantity as it can afford. Officials said the delivery orders for the initial tranche will have been placed by the end of October.
Category: Speaker News
Tags: artificial intelligence attritable autonomous drone Leidos machine learning Mitchell Institute for Aerospace Studies National Defense Magazine Roger Krone Skyborg Speaker News U.S. Air Force unmanned aircraft system Vanguard Wash100 Will Roper