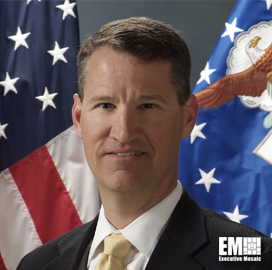 Bill Marion
Air Force's Bill Marion Joins AFS as Managing Director of Strategy for Defense, Intelligence
Bill Marlon, a Potomac Officers Club member who most recently served as the Air Force's deputy chief information officer, has joined Accenture Federal Services as managing director of strategy in the company's defense and intelligence practice. 
Marion will leverage his insights and expertise in information technology and innovation to support AFS customers in their technology transformation efforts, FedScoop reported Thursday.  
"As a seasoned executive with a track record of innovation and thought leadership, Bill will play a key role in bringing our market-leading digital capabilities to clients and helping them solve their most pressing defense challenges," AFS defense lead Vince Vlasho reportedly said. 
Marion served in the Air Force for over 20 years, holding positions related to technology, engineering, information and intelligence.
As deputy CIO, Marion was responsible for the Air Force's IT portfolio, which includes cloud, networks, information resource management, enterprise policies, information assurance and IT innovation efforts.
He spent nearly three years serving as the Air Force Space Command's chief technology officer. Marion also served nearly four years as the Air Combat Command's CTO.  
"I look forward to continuing to help bring new technologies that drive the DOD and Intelligence Community transformation across their mission operations, from cloud and mobile to artificial intelligence," Marion reportedly said. 
Marion earned a master's degree in computer and information services from St. Mary's University and a bachelor's degree in mathematics from the University of the Incarnate Word.
He is also a cybersecurity fellow at the Harvard Kennedy School and an excellence in government senior fellow at the Partnership for Public Service.
Category: Partnerships and Executive Moves
Tags: Accenture Federal Services artificial intelligence Bill Marion cloud defense Department of Defense FedScoop. POC member Vince Vlasho information technology national security Partnerships and Executive Moves U.S. Air Force U.S. Intelligence Community