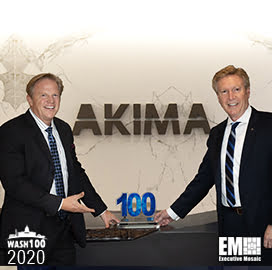 Jim Garrettson
and Bill Monet
Akima CEO Bill Monet Bags First Wash100 Award
Executive Mosaic has awarded Akima CEO Bill Monet his first Wash100 award, which is given to the most influential leaders and executives in the government contracting sector.
Jim Garrettson, the CEO of Executive Mosaic, recognized Monet for his leadership in driving Akima's growth and securing major government contracts. 
Monet is a 30-year veteran of the federal sector and has managed Akima programs in the areas of information technology, system integration, mission support, aviation, facilities management and construction, among others.
He is credited with spearheading numerous operational efficiency and process improvement programs across a range of industries.
Akima's logistics services division most recently secured a spot on the Navy's $6.1B Kits, Recovery, Augmentation, Components and Engines multiple-award-contract. 
Under the 10-year deal, Akima will provide maintenance services for single satellite sites, small aircraft quantities, government maintenance personnel and aircraft components. 
In October 2019, Akima was awarded a $152M contract to provide facility support at the Arnold Engineering Development Complex at Arnold Air Force Base, Tennessee.
The contractor will provide command, control and communication functions, in addition to other security, base supply, cargo movement and vehicle maintenance services.
Monet holds a bachelor's degree from Virginia Polytechnic Institute and State University, a master's degree from George Washington University and a business administration degree from the Wharton School of the University of Pennsylvania.
Executive Mosaic has been recognizing leaders in the government contracting sector since 2014. 
Wash100 recipients are recognized for demonstrating skills in leadership, innovation, reliability, achievement and vision. They are selected by Executive Mosaic's organizational and editorial leadership.
Category: Popular Voices
Tags: Akima Akima Logistics Services Arnold Engineering Development Complex aviation Bill Monet George Washington University GovConWire government contracting information technology Jim Garrettson Navy Popular Voices system integration University of Pennsylvania Virginia Tech Wash100