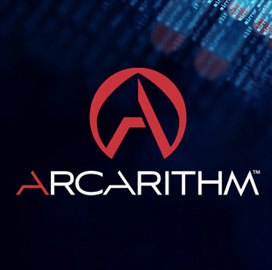 Arcarithm
Arcarithm to Develop Big Data Technologies for MDA's Data Systems
Arcarithm, an artificial intelligence company, has landed a contract to develop big data technologies to advance the Missile Defense Agency's data management and data mining systems within a missile defense digital architecture.
The company will leverage its Ominis deep learning algorithms, which were designed to provide speed, efficiency and accuracy in implementing large-scale computing clusters for analyzing massive data sources, Arcarithm announced Thursday.
"Ominis provides a valid approach to classifying data. We appreciate the confidence placed in Arcarithm by the Missile Defense Agency to allow us to mature Ominis," said CEO and President Randy Riley. 
According to Arcarithm, Ominis algorithms can automatically estimate metrics, generate quick-look reports and provide predictive metrics from large data. 
Their automated process can reportedly also deliver insights into data to allow users to extract value. 
The algorithms were designed to reliably identify and detect small features and data trends, serving as tools for subject matter experts to more effectively comprehend and evaluate data. 
Ominis algorithms also work with a range of computing platforms, including large, small and cloud-based computer architectures. 
Arcarithm is a developer of AI-based computer solutions for the commercial and defense markets. It is classified as a defense and space company based in Huntsville, Alabama, according to the company's LinkedIn profile.
The company specializes in computer vision, threat detection, gun detection, machine learning, natural language processing, deep learning, expert systems solutions, immersive technology and command and control.
MDA is a federal research, development and acquisition agency that works in ballistic missile defense systems for the United States and its allies, according to the agency's website.
Category: Future Trends
Tags: AI Arcarithm artificial intelligence ballistic missile big data data management data mining system deep learning digital architecture Future Trends Missile Defense Agency predictive metrics Randy Riley United States