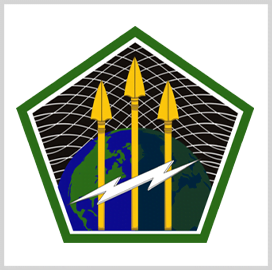 ARCYBER
Army Announces 10-Year Plan for Advancing Information Warfare
The Army's top cyber official has outlined the service's 10-year plan for advancing information warfare, announcing a focus on building new formations and skills to defeat adversaries in the information environment.
Lt. Gen. Stephen Fogarty, commander of Army Cyber Command and a past Potomac Officers Club event speaker, outlined a three-phase plan that involves realigning the relationships of the command's units to achieve flexibility and mission task organization, C4ISRNET reported Tuesday.
"ARCYBER is building upon a ten-year foundation of continual innovation, and accelerating its modernization efforts to enable information age Army operations across tactical, operational, and strategic echelons," Fogarty said. 
The main effort, according to Fogarty, is the migration of ARCYBER's headquarters from Fort Belvoir, Virginia, to Fort Gordon, Georgia.
The command unveiled its new advanced headquarters attached to the National Security Agency's Georgia decision on July 24.
"For the first time, the Army's operational and institutional Cyber forces will enjoy unprecedented synergies by operating from a single, information power projection platform," Fogarty co-wrote with adviser Bryan Sparling. 
In 2019, the Army also created the 915th Cyber Warfare Support Battalion, a 12-team entity assembled to support brigade combat teams or other tactical formations. 
The teams will help plan tactical cyber operations for commanders and unilaterally conduct missions in coordination with forces in the field. 
Fogarty's second phase will take place from 2021 to 2027 and will involve the adoption of new capabilities and units created in phase one. It will be the phase where the Army will "experiment and innovate, the general said. 
Phase three will begin in 2028 and will focus on multidomain capabilities. Fogarty said that by then, ARCYBER would already be able to succeed in information and unconventional warfare, conduct intelligence and counter-adversary reconnaissance and demonstrate a credible deterrent. 
"In each critical task, ARCYBER will play an essential supporting role as the Army better develops its ability to conduct active engagement through the converged employment of maneuver and information capabilities focused on achieving desired cognitive effects and behaviors in our adversaries," Fogarty said. 
Category: Speaker News
Tags: ARCYBER Army Army Cyber Command C4ISRNET cyber information warfare National Security Agency Speaker News Stephen Fogarty