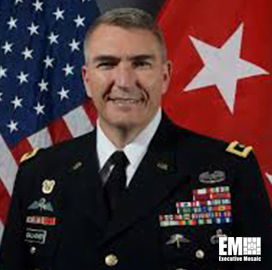 Peter Gallagher,
Director,
Army N-CFT
US Army Modernizing Networks for Joint All-Domain Goals, Official Says
The Army is ramping up efforts to contribute to the Department of Defense's goal of enabling combined joint all-domain command and control.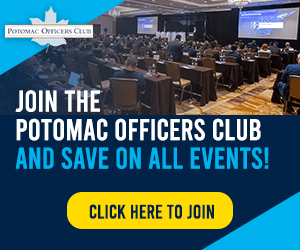 Maj. Gen. Peter Gallagher, director of Army Futures Command's Network Cross-Functional Team, stressed the importance of modernizing networks for CJADC2, The Modern Battlespace reported Tuesday.
JADC2 is the concept of connecting sensors from all of the military services into a single network. According to DOD leaders, CJADC2 similarly relies on modernized tactical networks and more advanced and open architectures.
"The collective efforts we've been doing here to take our modernization strategy and align everything we're doing to joint all-domain command and control has been phenomenal," Gallagher said during an AUSA Global Force Next 2021 panel.
Gallagher, a speaker at a past Potomac Officers Club event, highlighted CJADC2's potential for optimizing sensor-to-shooter and joint firing capabilities for Project Convergence, a multi-platform Army initiative aimed at merging joint force capabilities.
Project Convergence involves a series of incremental development efforts and exercises aimed at achieving a multi-domain force by 2035, the Army said in a previous press release.
The general previously touted the high-speed networks and artificial intelligence-powered software used at Joint Base Lewis McChord in Washington State, which served as Project Convergence's hub for 2020.
According to service leaders, Project Convergence 2020 highlighted the importance of integrating new capabilities early and often.
Curtis Nowak, JADC2 director at Army Joint Modernization Command, said the lessons learned from the tests will inform the creation of new simulated environments at Aberdeen Proving Ground, a site equipped with tools for technology risk reduction.
Category: Speaker News
Tags: Army AUSA Global Force Next 2021 Curtis Nowak Department of Defense DoD JAD2C Joint All-Domain Command and Control Joint Base Lewis-McChord modernization multi-domain Peter Gallagher Potomac Officers Club Project Convergence Speaker News The Modern Battlespace