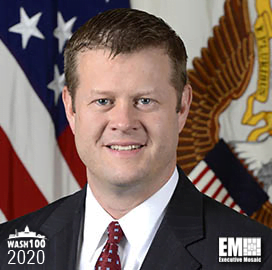 Ryan McCarthy
Secretary
Army
Army Secretary Touts Hypersonics Accuracy During Testing
The Army's experimental hypersonic weapons have demonstrated an extremely high degree of accuracy in testing, according to a top official.
"Hypersonic missiles are hitting their targets with a variance of only a mere six inches," Army Secretary Ryan McCarthy, a 2020 Wash100 winner, said during a virtual conference hosted by the Association of the United States Army. 
McCarthy did not reveal such details as how far the missiles traveled, how many tests were conducted and when or where they took place. 
The hypersonic weapons are expected to travel at speeds greater than Mach 5. The weapon type, which the Army plans to field by fiscal 2023, is part of the service's top-priority long-range precision fires portfolio. 
In March, the Department of Defense announced that the Army and Navy partnered to jointly test a hypersonic glide body called the Common Hypersonic Glide Body.
The DoD said that once C-HGB is fully fielded, it will serve as the hypersonic portfolio's conventional warhead, guidance system, cabling and thermal protection shield.
According to McCarthy, the Army's investments in top modernization priorities – including hypersonics, next-generation combat vehicles, future vertical lift, networks, air-and-missile defense and soldier lethality – are paying off. 
McCarthy also touted the progress of Project Convergence, an Army effort to merge joint force capabilities being led by Army Futures Command Commander John Murray, a 2020 Wash100 winner.
"Project Convergences focuses on increasing the speed at which our different platforms integrate in real time and provide the best response to the right shooter by computing at the edge. This effort will synchronize the entire modernization portfolio," McCarthy said. 
Category: Popular Voices
Tags: Army Army Futures Command Association of the U.S. Army C-HGB Common Hyersonic Glide Body Department of Defense edge computing future vertical lift hypersonic glide body hypersonic weapons hypersonics investment John Murray joint force Mach 5 modernization Navy networks next-generation combat vehicles Popular Voices Project Convergence Ryan McCarthy soldier lethality Wash100 weapon test