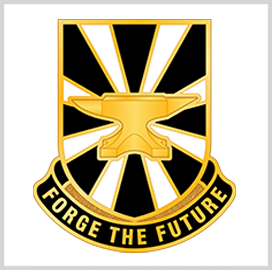 Army Futures Command
Army Seeks Proposals for Scalable Soldier-Led Software Development Factory
The Army Futures Command has issued a solicitation for a proposed scalable government-only software development facility, which will be set up in Austin, Texas. 
The software factory is envisioned to be led by Army trainers who will undergo five-year coding workshops and beginner training sessions administered by the selected contractor.  
According to the solicitation, the facility will be staffed, built and run from zero existing infrastructure, with the goal of transitioning the Army into a fully-uniformed agile software development unit without a heavy reliance on contracted presence, Nextgov reported. 
The winning contractor will be required to hire staff with the necessary engineering expertise and teaching acumen to share software development knowledge with future Army trainers. The goal is to establish cohorts with about 30 individual Army trainees every six months. 
Under the terms of the solicitation, the government would acquire the intellectual property rights of any code jointly developed through the initiative. The contractor, however, would maintain license over pieces of software used to initially develop certain platforms. 
The Army's proposed software development facility shares similarities with the Air Force's Platform One initiative, a cloud-agnostic software environment that features tools and a centralized team dedicated to integrating built-in security and continuous upgrades into software. 
Interested sources may submit whitepapers in response to the solicitation until Jan. 19. The government will then issue a request for proposals in the following week, with proposals due Feb. 9. A contract in the form of an other transaction agreement will be awarded on March 8.
Category: Future Trends
Tags: Air Force Army Army Futures Command Future Trends Nextgov Platform One prototype proposal software factory software solution solicitation