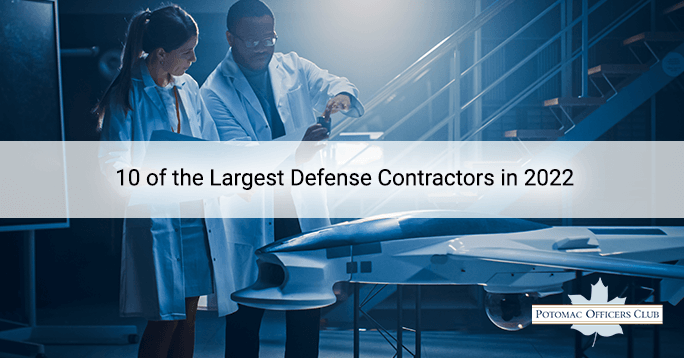 10 of the Largest Defense Contractors in 2022
Photo by Gorodenkoff from Shutterstock.com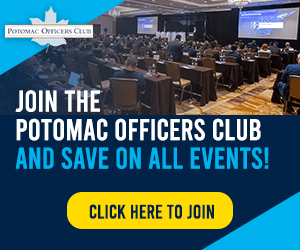 Defense is one of the most sought-after commodities of the United States government. Many federal agencies and private institutions pursue a broad range of expertise defense contractors offer to bolster their solutions for aerospace, healthcare, geospatial, military, cybersecurity, and information technology functions.
Today, several defense contractors are offering cutting-edge products and tailor-made solutions for various missions. Here is a rundown of the top defense contractors in 2022.
Collins Aerospace
Photo from Official Collins Aerospace Website
Collins Aerospace is a technology company owned by Raytheon Technologies headquartered in Charlotte, North Carolina. Collins Aerospace has been in the defense contracting market for only five years, yet it has proven dependable regarding space, aviation, military, and sustainability solutions. It is a reliable builder of aircraft and power systems.
The company primarily operates in aerostructures, avionics, interiors, mechanical systems, missions strategies, and power & controls. Divisions of the US Department of Defense (DoD) awarded Collins Aerospace with high-profile government contracts to get hold of its defense infrastructures.
In 2016, Collins Aerospace was chosen to supply AN/PRC-162 ground radios to the US Army. As of 2022, the aerospace company has delivered the US Army's ninth order of these ground radio systems as part of its multiple-award contract (scheduled to end in March 2026). This two-channel networked communications ground radio enables high-speed and precise communications for warfighters.
In May 2022, the US Air Force selected Collins Aerospace to provide continuous support for the Tactical Reconnaissance Pod program.
Raytheon Technologies
Photo by ChenHao_Kuo from Shutterstock.com
With 30 years of professional background, Raytheon Technologies, Inc. is one of the largest and most reliable defense contractors for the DoD and other federal agencies. Many of Raytheon Technologies' contracts with the government are worth billions of dollars and consist of various defense equipment and capabilities.
In January 2023, Raytheon Intelligence & Space, a subsidiary of Raytheon Technologies, secured a contract to build a mock-up Missile Track Custody system for the US Space Force.
In March 2023, Raytheon Missiles & Defense, the company's arm specializing in developing initiatives for defense and warfare, won the contract to produce AN/SPY-6(V) radars for the US Navy. AN/SPY-6(V) radars are naval radars designed to simultaneously find and mark enemy planes and missiles.
HII
Photo from Official HII Website
HII (formerly Huntington Ingalls Industries) was established in 2011 but is backed by over 135 years of experience in US military shipbuilding and defense solutions. HII is a global leader in all-domain defense capabilities, a mission-force-ready industrial services provider, and a reliable contractor for several US federal government agencies.
Recently, in February 2023, the Defense Logistics Agency (DLA) granted HII's Missions Technologies division a five-year agreement to recompete research and development of technical solutions, consolidating the supply of products and warfighter solutions for the DLA.
In November 2022, the US Naval Sea Systems Command awarded HII a contract for designing and constructing the Amphibious Assault Ship LHA 9. This multifunctional ship is engineered to operate in high-density, threat-rich environments as either a part of a dispatch strike group, an amphibious task force, or an amphibious-ready group.
Northrop Grumman
Photo by Everett Collection from Shutterstock.com
Northrop Grumman Corporation is a prime aerospace and all-domain defense company based in West Falls Church, Virginia. It has 80 years of experience working on bolstering security in the air, sea, land, space, and cyber realms and is one of the world's largest manufacturers and suppliers of warfare systems, software, and armaments.
Northrop Grumman has secured several contracts from military and federal government agencies as a global leader in defense services and solutions for different domains. Under the leadership of Kathy J. Warden, Chairman and CEO of Northrop Grumman, the company completed the integration and completion of the orbital ATK program in 2018.
On July 29, 2022, the Missile Defense Agency chose Northrop Grumman to innovate the software and hardware of its Ground-Based Midcourse (GMD) Weapon System (GWS) Program until July 2027.
In the same month, Northrop Grumman secured a contract to design, develop, and supply M782 Multi-Option Artillery Fuze (MOFA) from the US Army Contracting Command. M782 MOFA operates in four modes: proximity, electronic time, point detonating, or delay. It is engineered to fit the current 105mm and 155mm bursting artillery projectiles.
Lockheed Martin
Photo by Mike Mareen from Shutterstock.com
Lockheed Martin Corporation is a prime provider of defense solutions through aerospace, arms, security, military support, and technological products and services. A merger between the former Lockheed Corporation and Martin Marietta Corporation, Lockheed Martin is influenced by over 100 years of expertise in establishing security for all domains.
Lockheed Martin was founded in 1995 and remained one of the largest contractors for aerospace, security, military support, and mission systems solutions for the government. The US Department of Defense (DoD) and Department of Energy (DOE) awarded many of the company's high-profile agreements.
In February 2023, Lockheed Martin finalized the US Air Force's 10th order of GPS 3 Satellites. These satellites have longer life spans, better accuracy, and anti-jamming features and will launch in future spacecraft as part of the GPS constellation modernization program.
In 2020, Lockheed Martin finalized a deal to deliver nearly 400 units of F-35 jets to the US military, international partners, and foreign military sales clients. Under the contract, Lockheed Martin will specifically supply 145 Lot 15 aircraft and 127 Lot 16 aircraft types to its clients.
Lockheed Martin has also worked with other defense companies to fulfill space and defense missions. On January 4, 2023, Raytheon Technologies chose Lockheed Martin's LM 400 Satellite Bus to house its infrared-sensing payload for its constellation orbit that finds and tracks enemy ballistic and hypersonic missiles.
Oshkosh Corporation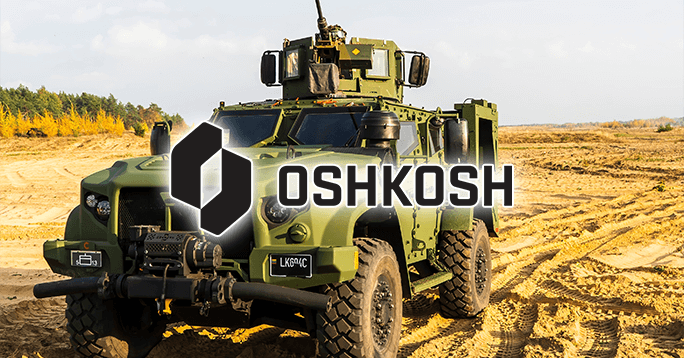 Photo by Karolis Kavolelis from Shutterstock.com
Oshkosh Corporation is a global leader in designing and developing machinery, vehicles, and armaments for federal government agencies. It has 12 subsidiaries, each offering unique services for homeland and public security, mobility, fire control, disaster risk reduction, and commercial success.
Since 1917, Oshkosh has been a dependable contractor of the DoD and other well-known federal agencies. The company has secured government deals propelling military operations and bolstering defense initiatives in the country.
In 2015, Oshkosh Defense secured a contract to produce and assemble Joint Light Tactical Vehicles (JLTV) for the US Army. The defense company subsequently received modification contracts for additional JLTV unit orders and is contracted to provide these vehicles until August 2024. The US Army Contracting Command chose Oshkosh's JLTV for its payload performance, C4ISR capabilities, comprehensive protection system, and off-road efficiency..
General Dynamics
Photo by Mike Mareen from Shutterstock.com
General Dynamics (GD) innovates defense and combat solutions for the land, sea, air, space, geospatial, and information technology. It has proven to be a force to be reckoned with when it comes to designing and developing hardware and software products for warfighters and federal government bodies.
GD's know-how in securing the nation through cutting-edge solutions has made it a dependable and respectable defense contractor for years now. One of its largest government contracts was secured by its Land Systems division. In June 2022, GD Land Systems was chosen by the US Army to manufacture a light tank system called Mobile Protected Firepower (MPF) to enhance the Infantry Brigade Combat Teams' mobility, protective, and direct-fire capacities.
General Dynamics Electric Boat, the business unit responsible for engineering naval submarines, secured a contract for the repair, maintenance, and modernization of the USS Hartford, a submarine designed and built by GD Electric Boat and commissioned by the US Navy in 1994.
GD's efforts in enhancing defense and protective measures stem from the hard work and acumen of the company's executives. Chris Brady, President of GD Mission Systems, Amy Gilliland, President of GDIT, and Phebe Novakovic, Chairperson and CEO of GD, have received Executive Mosaic's prestigious Wash100 award.
L3Harris Technologies
Photo from L3Harris Technologies Official Website
L3Harris Technologies Inc. is a technology company specializing in tactical radios, wireless equipment, electronic warfare, microwave weaponry, surveillance systems, drone systems, and night vision apparatus. Anchoring on a "Fast. Forward." mindset, L3Harris provides cutting-edge machinery and gadgets to heighten defense and reduce attacks on the land, air, sea, space, and cyber domains.
L3Harris Technologies may be a young company, having been only founded in 2019, but its proficiency in designing and developing next-generation technology helped it gain a foothold among the most reliable defense government contractors. The company has secured noteworthy agreements from different federal agencies.
In April 2022, L3Harris was chosen to provide the Shipboard Panoramic Electro-Optic/Infrared (SPEIR) system to the US Navy. Under the contract, L3Harris Technologies will supply production, engineering, and technology services to improve fleet protection and performance.
L3Harris is also recognized for its creative genius in building weaponry. On November 30, 2022, the company's Vehicle Agnostic Modular Palletized ISR Rocket Equipment (VAMPIRE) won the "Best of What's New" award. This avant-garde technology can fit any vehicle with a cargo bed, converting it into a mobile weapons system that can track and engage in land and air threats.
L3Harris developed VAMPIRE to cater to the DoD's immediate appeal to provide crucial defense services to Ukraine to safeguard civilians and civilian infrastructures from enemy attacks. The company submitted its VAMPIRE prototype to the DoD in April 2022; in August, it was chosen to be part of the DoD's $3 billion additional security assistance program under the Ukraine Security Assistance Initiative.
BAE Systems
Photo by Radoslaw Maciejewski from Shutterstock.com
BAE System is a multinational company that offers armaments, armored vehicles, artillery systems, electronic warfare, naval guns, naval ships, sensing and communications equipment, and aerospace and defense solutions.
The US Department of Defense and other federal government agencies have relied on BAE Systems' advanced technology and solutions to strengthen defense and counterattack initiatives. Government contracts secured by BAE Systems materialize these high-profile projects.
On June 24, 2022, the Air Force Nuclear Weapons Center chose the company's Technology Solutions & Services division to provide engineering, testing, logistics, maintenance, and support services to sustain the Intercontinental Ballistic Missiles (ICBM) system.
In January 2022, BAE Systems is one of the chosen contractors to repair, modernize, and maintain the US Navy's non-nuclear surface combatant-class ships (CG and DDG). BAE Systems will provide its naval shipbuilding services until January 2027.
Boeing Company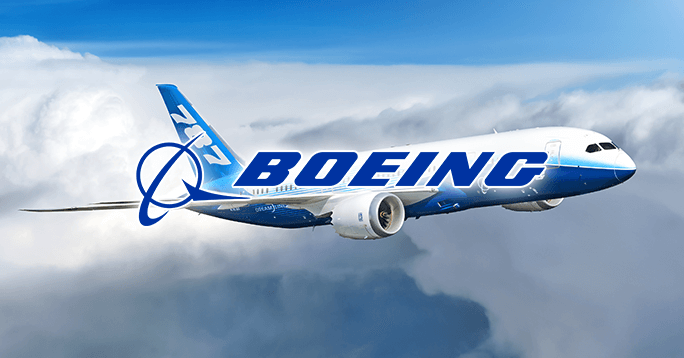 Photo by vaalaa from Shutterstock.com
Boeing Company is a well-known manufacturer and provider of airplanes, rockets, satellites, rotary-wing aircraft, missiles, and telecommunications equipment. The company is a merger between the Boeing Airplane Company, founded by Wiliam Boeing in 1916, and McDonnell Douglas, a former aerospace manufacturing and defense solutions corporation.
With over 100 years of professional expertise, Boeing has become a global leader in the aerospace and defense industry and a prime contractor for the US federal government.
Boeing has secured government contracts to propel protective initiatives in different domains. Earlier in 2021, the DoD chose Boeing to grant engineering, testing, material management, and field support services to the C-17 Globemaster III transport aircraft fleet for the next ten years.
In January 2023, Boeing Co. secured a contract with the US Army for the production of additional Next Generation Automated Test System (NGATS) units. NGATS is a single, mobile diagnostic tool used for real-time autonomous testing and detecting in the field and Army platforms; this offsets the need to troubleshoot and disassemble components manually and to reduce maintenance costs.