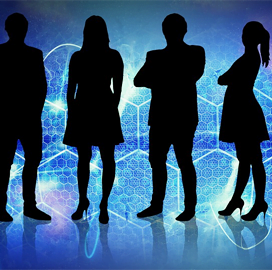 Government contracting
executives
Five DOJ Business Area Executives in GovCon
The Potomac Officers Club previously featured five account executives working with individual clients from the federal government and military contracting communities. The role was borne out of the need for companies to customize their services to fulfill the nuanced requirements of individual clients, according to Belo + Company.
For executives handling Department of Justice accounts, the focus is to support the government's duty to enforce the law and administer justice. The department, for now, is focused on improving workplace safety in response to scientific and policy developments related to the coronavirus pandemic.
POC — a division of Executive Mosaic — presents five government contracting executives responsible for their company's business with the DOJ.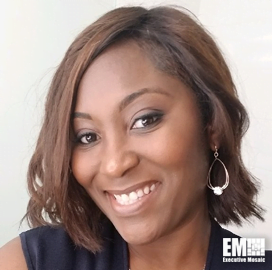 Tasha Jones, a government contracting expert with an extensive background in military and national security matters, is the vice president of Steampunk's Department of Justice sector business.
Jones joined Steampunk in November 2020 to establish and grow the justice sector business of the company, which is headquartered in McLean, Virginia.
At Steampunk, she is tasked with improving decision-making and troubled initiatives within the federal and defense markets.
She has more than 20 years of experience leading program management, intelligence, strategy, project coordination and business process improvement activities, having worked at organizations such as the DOJ, STEMBoard and Twenty39, according to her LinkedIn profile.
Twenty39 is a Springfield-headquartered company that she owns. The company allows organizations to monetize underutilized assets, reduce business operating costs and risk, as well as ensure customer satisfaction by applying the combination of logic, strategy and data on people, processes and technologies.
Before establishing Twenty39 in February 2019, Jones spent nearly two years at STEMBoard as vice president of programs. STEMBoard is a disadvantaged woman-owned small business that delivers engineering services in data modernization, intelligence-driven analytics and information technology consulting for federal agencies.
Earlier in her career, Jones worked as an IT project manager at the DOJ. Her work at the department resulted in the creation of two new units for the FBI, including a program management office tasked with maintaining an e-discovery program and IT systems.
The Steampunk VP has a bachelor's degree in computer information systems from American InterContinental University. She also holds a master's degree in global management from the New York Institute of Technology.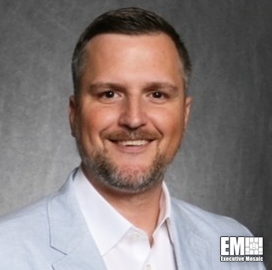 Jim Fitzmaurice is an enterprise account manager at Cloudera, a computer software company headquartered in Palo Alto, California.
Fitzmaurice is deployed in Leesburg, Virginia, and primarily works with customers across the departments of Justice and Homeland Security, according to his LinkedIn profile.
With a career spanning over 15 years, he has gained experience in direct/enterprise sales, team leadership, business development and operations management.
Prior to joining Cloudera in August, he served as a senior sales manager at DLT Solutions, a provider of digital design solutions and enterprise-grade cloud offerings.
While at DLT Solutions, he managed the application lifecycle and information technology infrastructure divisions. He also co-created the DLT Secure Software Factory, established the DLT GovDevSecOpsHub and started the DLT ContinuousX podcast series.
He also spent a year as an enterprise account manager at Level Access, where he dealt with civilian and defense agency customers.
Fitzmaurice dedicated nearly five years of his career at Omnilert, a Leesburg, Virginia-based software company specializing in emergency communications. During his stint with the company, he was appointed as a business development director and an enterprise account executive for public sector and commercial customers.
Earlier in his career, he was a professor and consultant at Marymount University. He also held sales positions at RainedOut and American football teams Buffalo Bills and what is now known as the Washington Football Team.
He graduated from Genesee Community College with a degree in liberal arts before obtaining a degree in business administration from Nazareth College. He also holds a master's degree in sports administration from Canisius College.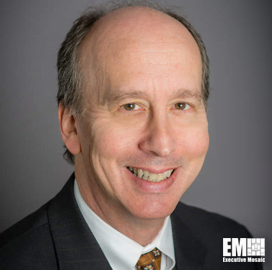 Alan Kaufax serves as Ace Info Solutions' vice president of business development. He is primarily focused on the company's business with the departments of Justice, Homeland Security and Commerce.
The company credits Kaufax with having a proven track record within the said agencies, helping them optimize technology investments and provide better services for Americans.
Kaufax has more than 25 years' worth of experience in strategic and executive roles in information technology management, according to AceInfo.
Fifteen of those years were spent in the federal arena. Kaufax is credited with leading programs in IT infrastructure modernization, engineering, security and application development.
Before joining AceInfo in 2014, Kaufax briefly served as a senior program manager at Federal Working Group, a management consulting company based in Arlington, Virginia.
Kaufax spent four years at Access Systems, serving as the director of the company's justice business unit. He was responsible for a portfolio of projects with the DOJ and DHS, he said in his LinkedIn profile.
He previously served as a program manager at Projects Performance Corporation, which is now a subsidiary of Data Systems Analysts.
Kaufax earned a Master of Business Administration degree and a bachelor's degree in business administration from West Virginia University, according to AceInfo.
He has been certified as a project management professional by the Project Management Institute. He also holds an ITIL Foundation certificate in IT service management, according to his LinkedIn profile.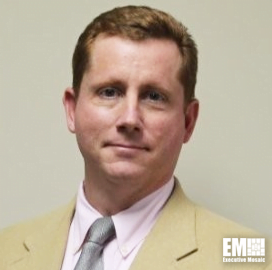 Jason Hannah joined Science Applications International Corp. in August as the director of justice and law enforcement.
Since assuming the role, Hannah has been responsible for growth strategy and business development efforts for the company's Department of Justice business. He also deals with federal law enforcement clients, according to his LinkedIn profile.
Previously, he worked for AEGIS, a Rockville, Maryland-based small business that provides information technology and professional consulting services to federal civilian, defense and commercial sector clients.
As business development vice president at AEGIS, Hannah developed and executed growth strategies in addition to leading strategic planning for future campaigns and capabilities.
He also spent nearly four years as a VP at MIL, a provider of cyber, engineering, financial and information technology services to the federal government. While at MIL, he led relationships, teaming, proposal execution and operations for corporate business development. His duties included establishing business development processes and advising staff on growth and performance strategies.
The executive worked for ManTech International as well. Hannah was responsible for business development, relationship building and new opportunity identification for ManTech's Department of Homeland Security business.
He also held leadership positions at E3 Federal Solutions. For nine months, he served as one of the company's senior managers, focusing on federal law enforcement/intelligence community activities. He also served as director for homeland security and law enforcement and director for strategic growth.
Hannah holds a bachelor's degree in liberal arts from Rocky Mountain College and a master's degree in management from the University of Maryland Global Campus.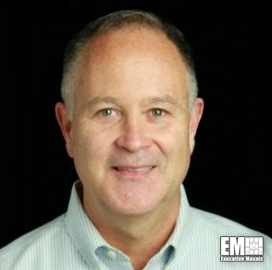 Mark Lewis serves as the executive in charge of Microsoft's business with the Department of Justice. He said he supports law enforcement and litigation missions across the department.
Before he took on his current role in January 2020, Lewis served as a client executive at Gartner, according to his LinkedIn profile. Gartner is a research and advisory company that provides information, advice and tools for clients in the sectors of finance, human resources, customer service, communications and others.
Lewis said he provided information technology research and executive advisory services to one of Gartner's federal customers, the Department of Energy.
He said he spent six years as a principal sales executive at Amazon Web Services, establishing the company's federal law enforcement business.
Before joining AWS, he served as a federal sales manager at Quest Software prior to the company's sale to Dell. He said the role was focused on growing the company's business with the Intelligence Community.
Lewis said he also served as a federal account manager responsible for application management, identity management, Windows infrastructure management and product sales with the Department of Homeland Security, DOJ and other civilian agencies.
He said he was previously a federal account manager at Informatica, a computer software company headquartered in Redwood City, California. He also spent four years as an account manager at computer software company Compuware.
Lewis earned a bachelor of science degree in public administration from the Indiana University of Bloomington. He is an AWS certified cloud practitioner, according to his LinkedIn profile.
ABOUT POTOMAC OFFICERS CLUB
The Potomac Officers Club is owned and operated by Executive Mosaic. Since 2002, Executive Mosaic has been a leader in media and exclusive senior executive networking programs primarily targeted to the U.S. federal government contracting (GovCon) marketplace. In addition to connecting executives of consequence into a fabric of like minded communities, the company's growing cross-media platform serves as a leading source of news about the people, policies, trends and events shaping the nation's GovCon sector.
Category: Articles
Tags: account executive AceInfo Alan Kaufax Belo + Company Cloudera coronavirus DOJ business area Executive Mosaic govcon government contracting Jason Hannah Jim Fitzmaurice Mark Lewis Microsoft Potomac Officers Club SAIC Steampunk Tasha Jones