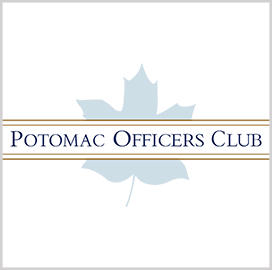 Amphibious assault
vehicles
Five Executives Pursuing Marine Corps Modernization
Marine Corps Commandant David Berger said the maritime service aims to restore itself to its naval roots after decades of operations ashore. The Marine Corps has begun reducing the number of active-duty personnel and shifting its focus toward advancing new technological capabilities.
In pursuit of modernization, the Marine Corps is expected to provide its ground forces with long-range precision fire capabilities and convert cannons to missile units. The service's medium and long-term plans are reflected in its fiscal 2021 budget, which shows a focus on shedding on-shore counterinsurgency capabilities.
The Potomac Officers Club – a division of Executive Mosaic – features Commandant Berger and four other industry executives working to realize the Marine Corps' technological ambitions.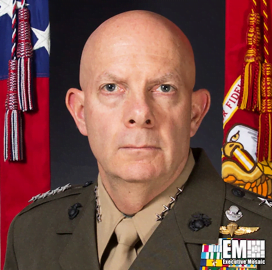 Gen. David Berger is the commanding general of the Marine Corps Combat Development Command and the deputy commandant for combat development and integration at the Marine Corps headquarters.
The Woodbine, Maryland, native has held leadership positions at every level after being commissioned as an infantry officer in 1981. He served as the commander of the 8th Marines in Haiti during Operation Secure Tomorrow, the Regimental Combat Team 8 in Iraq during Operation Iraqi Freedom and the 1st Marine Division in Afghanistan during Operation Enduring Freedom.
He was also appointed as the assistant division commander of 2d Marine Division; policy planner in the Strategic Plans and Policy Directorate of the Joint Staff J5; commander of the I Marine Expeditionary Force and Marine Corps Forces, Pacific; and chief of staff for Kosovo Force Headquarters in Pristina, Kosovo, according to Defense .gov.
Other assignments include serving as company commander and battalion operations officer of the 2d Reconnaissance Battalion during Operation Desert Storm and officer selection officer in Roanoke, Virginia.
Earlier in his career, Berger served in the III Marine Expeditionary Force Special Operations Training Group and Marine Aviation Weapons and Tactics Squadron One in Yuma, Arizona.
He graduated from the Marine Corps Command and Staff College and the Marine Corps School of Advanced Warfighting. He also completed the Army Infantry Officer Advanced Course and earned a master of international public policy degree from Johns Hopkins University School of Advanced International Studies.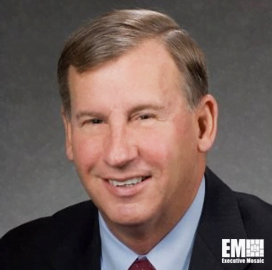 Dewey Mauldin serves as the vice president for Marine Corps systems at Boeing. He is mainly responsible for all of the company's customer-facing activities with Marine Corps leaders and major commands.
As the first-ever person to hold the role at Boeing, Mauldin was responsible for working out interfaces between his organization and the company's other business units. He also established interfaces with Marine Corps commands at the highest levels, according to his LinkedIn profile.
His team is focused on forming a business strategy for all Marine Corps programs. He also handles issues between Boeing's accounts for the Marine Corps and the other military services.
Mauldin was tasked to secure business opportunities and contracts by building a strong relationship between Boeing and the Marine Corps.
Prior to his current role, Mauldin spent two years as Boeing's director of business development. He led and directed the opening of a new analysis, modeling and simulation center in the Norfolk, Virginia, area.
He was also responsible for the organization, hiring, development of procedures, business development and budget for the said project.
Before he joined Boeing in June 2008, Mauldin was the director of business development for the command, control, communication and computers sector at ITT, an engineering company that develops solutions for the energy, transportation and industrial markets.
Mauldin spent 31 years in the Marine Corps, holding positions such as chief of staff for the II Marine Expeditionary Force, commanding officer for the 7th Marine Regiment and senior Marine representative for the Naval Education and Training Command.
He earned a master's degree in national security from U.S. Naval War College, a master's degree in management and business administration from Webster University and a bachelor's degree in psychology from the College of Charleston.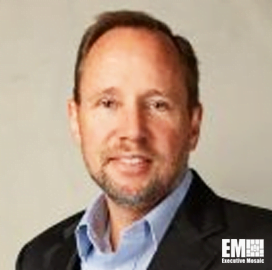 Frank Wakeham is a principal and director at Booz Allen Hamilton, where he leads the Navy and Marine Corps headquarters business segment.
He leads a team providing a range of domain and functional support to the Office of the Chief of Naval Operations, the secretary of the Navy, Naval Education and Training Command and the Bureau of Naval Personnel, Booz Allen said.
Wakeham has more than 25 years of experience in military and business leadership. He has a history of building and implementing growth strategies and exceeding growth targets.
He is also a leader in Booz Allen's Mission Readiness Center of Excellence, which convenes technical experts to develop intellectual capital, best practices, market understanding and advance analytical capabilities.
Earlier in his 17-year career at Booz Allen, Wakeham led the company's NMC fleet business segment and supported a variety of Navy operational clients, including the commanders of the U.S. Pacific Fleet, the U.S. Fleet Forces Command, the Warfare Development Command and the Navy Reserve Force.
Before he joined Booz Allen in 2003, he spent 10 years of active duty in the Navy as a nuclear-trained surface warfare officer. He also has more than two years of experience in the telecommunications and shipbuilding industries.
Wakeham earned a bachelor's degree in economics from the U.S. Naval Academy. He also holds a master of business administration degree from the Kenan-Flagler Business School at the University of North Carolina at Chapel Hill.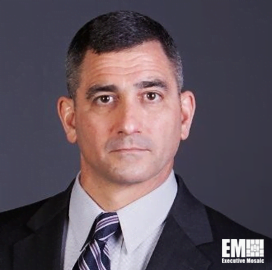 Raymond Coia serves as the business development director for Marine Corps and amphibious programs, platforms and services at BAE Systems. He leads business operations related to Marine Corps combat vehicle opportunities, including ground defense-related programs.
Coia is responsible for programs such as those for amphibious combat vehicles, amphibious reconnaissance vehicles and assault amphibious vehicles, according to his LinkedIn profile.
Coia is a retired Marine Corps colonel and combat veteran with broad command and staff experience at all levels within multiple organizations and accomplishments in the defense and homeland security industries.
He served as the director of strategy, operations and plans for the Marine Corps Combat Development Command; chief of staff at the II Marine Expeditionary Force; and commanding officer for the 2nd Reconnaissance Battalion of the 2nd Marine Division.
Before he joined BAE in May 2014, Coia served as the director of TechOp Solutions' national operations center media monitoring capability.
He led an open-source information center that supported the Department of Homeland Security and other customers in the national government.
The center provided time-sensitive reporting on breaking events using traditional and social media sources, providing daily summaries to senior federal government officials.
Coia earned a bachelor's degree in accounting from the University of Dayton and a master's degree in military science from Marine Corps Command and Staff College. He was also a fellow of national security studies at the Massachusetts Institute of Technology.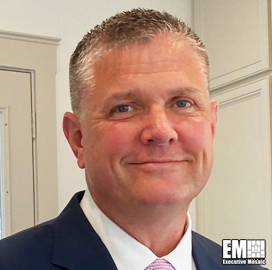 Jeffrey Little joined Science Applications International Corporation in January 2019 as the vice president of business development for Navy and Marine Corps programs.
The role puts him in charge of a team of growth professionals responsible for identifying and qualifying Navy and Marine Corps opportunities and developing the integrated strategy and environmental assessment for customers across the two service branches.
Little also leads efforts to develop internal and external messaging to customers and evaluates the company's strengths and weaknesses to help ensure application of resources and maximize the potential for growth, according to his LinkedIn profile.
Previously, Little worked for Engility, a provider of engineering and logistics services now owned by SAIC. During his stint at Engility, he served as VP of business development and growth strategy of the company's defense group and director of Department of Defense cyber business development.
Little also worked for more than six years at Raytheon, which now operates as Raytheon Technologies. At Raytheon, he was responsible for developing, managing and executing business and strategy development for the government cyber solutions business.
He also worked for the company's intelligence, information and services unit, where he identified and captured C4ISR-related opportunities.
He transitioned to the private sector after serving for the military. For seven months, Little led multi-source intelligence system development and future systems capability development for the Fleet Cyber Command.
He also had 24-year stint as an information warfare officer for the Navy, during which he provided signals intelligence and cyber support to the intelligence community and the Department of Defense.
ABOUT POTOMAC OFFICERS CLUB
The Potomac Officers Club is owned and operated by Executive Mosaic. Since 2002, Executive Mosaic has been a leader in media and exclusive senior executive networking programs primarily targeted to the U.S. federal government contracting (GovCon) marketplace. In addition to connecting executives of consequence into a fabric of like minded communities, the company's growing cross-media platform serves as a leading source of news about the people, policies, trends and events shaping the nation's GovCon sector.
Category: Articles
Tags: BAE Systems Boeing Booz Allen Hamilton David Berger Dewey Mauldin Executive Profiles Frank Wakeham govcon government contracting Jeffrey Little Marine Corps Navy Raymond Coia