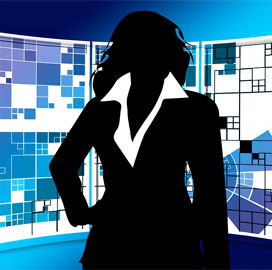 Women-owned businesses
Five GovCon Executives in Women-Owned Small Businesses
Women business owners in most countries face more challenges in comparison to men, according to a 2017 research by the U.S. Senate Committee on Small Business and Entrepreneurship. The report identified three major obstacles: a lack of role models and mentors, the gender pay gap and unequal access to funding and venture capital.
In the United States, women-owned small businesses are given access to federal procurement programs aimed at leveling the playing field. The Small Business Administration's WOSB Federal Contracting Program makes certain businesses eligible to receive contracts specifically set aside for the program.
The Potomac Officers Club — a division of Executive Mosaic — features five executives working for certified WOSBs in the government contracting sector.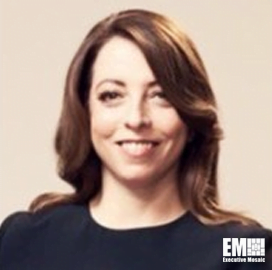 Angie Lienert is the owner, president and chief executive officer of IntelliGenesis, a small, woman-owned, veteran-owned business headquartered in Columbia, Maryland.
As president and CEO, she leads a business specializing in intelligence analysis, data analytics, digital forensics, artificial intelligence, offensive and defensive cyber operations, software life-cycle support and research and development services.
Previously, Lienert served as the chief strategy officer of Traversed, according to her LinkedIn profile. During her three-year stint with Traversed, she helped identify commercial customers that could benefit from the company's expertise in digital forensics.
Before joining Traversed, she was a limited partner at Old Line Capital Partners, a Maryland-based investment firm that provides mentoring, early seed capital and market validation to tech startups.
She also spent nearly three years as a program manager at BAE Systems. While working for the aerospace company, she gained knowledge of technology systems within the intelligence community.
Earlier in her career, she was an associate at Booz Allen Hamilton.
She began working for the private sector after a six-year stint as an Arabic linguist for the Air Force.
Lienert completed an associate of arts and sciences degree in communications from the Community College of the Air Force before obtaining a bachelor's degree in management from Regents College. She also holds a Master of Business Administration degree from Strayer University-Maryland.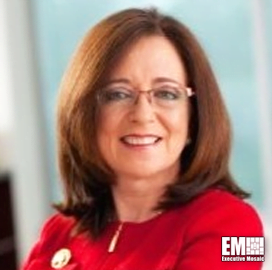 Lisa Wolford is the president and chief executive officer officer of Constellation West, a service-disabled veteran-owned, women-owned, small disadvantaged business, which she founded in 1997.
She started Constellation West with a primary focus on providing information technology solutions to clients in the commercial marketplace, including Ameritrade, Blue Cross, Commercial Federal, First Data Resources, Honeywell, Raytheon and Union Pacific Railroad.
Under Wolford's leadership, the company eventually branched out to serve federal clients, such as the Centers for Medicare and Medicaid Services, the Department of Veterans Affairs, U.S. Strategic Command and the Air Force Weather Agency.
Today, all of Constellation West's business engagements are with federal customers, according to Wolford's company profile.
Her LinkedIn profile shows that prior to founding the small business, Wolford spent three years as a client server software architect for First Data, a financial services company that now operates as part of Fiserv.
While at First Data, she designed enterprise software and databases and helped develop a system to allow debit card holders to set preferences.
She began working for the private sector after serving four years with the Marine Corps, where she was discharged as a corporal. During her career with the service branch, she worked as a field radio operator, a unit diary clerk and an assistant unit diary chief.
Wolford completed her bachelor's degree in business administration from the University of Nebraska at Omaha with a triple specialization in management information systems, accounting and Japanese strategic information systems.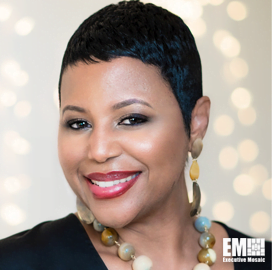 Karen Swain serves as the president and chief executive officer of Excelous, an 8(a) certified woman-owned small business headquartered in Atlanta, Georgia.
The firm provides organizational change management services for clients from the government and commercial sectors. Excelous implements enterprise-wide information technology initiatives to provide customers with ways to adapt, control and manage change within their organizations, according to Swain's LinkedIn profile.
Swain leads a team of consultants experienced in the areas of instructional design, business process reengineering, change management and document control.
The firm's staff is composed of professionals such as IT program managers, system engineers, developers and security specialists.
Swain, whose areas of expertise include business analysis, strategy, requirements analysis and business process improvement, has been serving as head of Excelous for nearly 10 years, having joined the management and consulting firm in 2011 from Deloitte.
She worked at Deloitte from February 2010 to July 2011 as a senior organizational change management consultant. In the position, Swain was responsible for spearheading OCM and training deployments focused on enterprise-wide technology projects.
Her LinkedIn profile states that the Deloitte projects she led during her nearly two-year stint were aimed at impacting organizations' human capital, product lines and business processes.
Swain joined Deloitte from BearingPoint, where she held a similar role. Like Excelous and Deloitte, BearingPoint also delivers management and technology consulting services.
The Excelous CEO has a bachelor's degree in accounting from Florida A&M University. She also holds a Master in Business Administration degree from Clark Atlanta University.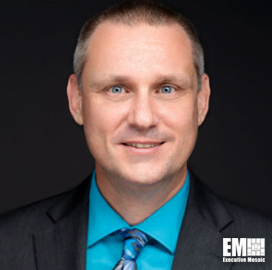 Michael Ferree serves as vice president of business development at SecureStrux, a woman-owned small business that provides technology solutions to commercial and government organizations.
SecureStrux said it specializes in cybersecurity, risk management, engineering, compliance, training, penetration testing and cloud migrations and management, among others.
In his role, Ferree is responsible for developing business, managing the sales cycle and building strategic partnerships, SecureStrux said.
SecureStrux credits Ferree with demonstrating the ability to develop effective program capture plans aimed at informing the company's approach to multiple phases of the procurement process.
In his LinkedIn profile, Ferree said he has more than 20 years of experience in small businesses. He said he has outstanding accomplishments in program management, client relations, team leadership and business development.
Ferree has managed a portfolio of at least 14 support contracts in eight states with an average run value of $50 million, according to SecureStrux.
Before he joined SecureStrux in 2017, Ferree served for 10 years as a director for Craig Technologies, contributing to the company's growth.
He has supported customers from NASA, the Department of Defense, the Army, the Navy, the Marine Corps, the Air Force, the Transportation Security Administration and the Defense Information Systems Agency.
Ferree has a technical degree in computer programming and is currently pursuing a bachelor's degree in business administration, SecureStrux said.
He was certified as a Project Management Professional by the Project Management Institute and as a Lean Six Sigma Yellow Belt by the Rochester Institute of Technology.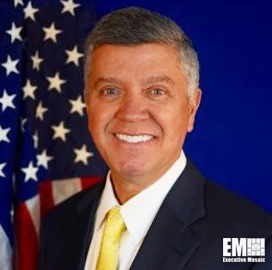 Roderick Duke is the president of Qualis, a Huntsville, Alabama-based woman-owned small business that provides engineering, test and evaluation, program management and cybersecurity services to government customers.
Duke leads the day-to-day management of company operations and the creation of corporate strategies, objectives, policies, procedures, processes, programs and practices.
In addition to serving as president, he also sits on Qualis' board of directors, according to his LinkedIn profile.
He was appointed president after serving for two-and-a-half years as the company's executive vice president. His duties as EVP included supporting strategic planning, growth initiatives, and NASA and national security programs.
Before joining Qualis in 2013, he was the chief operating officer of MCR, a McLean, Virginia-based company that provides integrated program management solutions to defense, intelligence and civilian agencies.
He held the same role at ASRC Federal. As COO, he was responsible for the overall operations of the company, including contracting work, and human resources and security functions.
Duke also spent eight years serving as the vice president of BAE Systems' specialty engineering group and analytical solutions group.
With a career spanning more than five decades, Duke is experienced in lead systems integration, systems engineering, model based systems engineering, quality engineering, executive level strategic planning, information assurance, information technology, cyber security-related services, cost estimating, and analysis and logistics support services.
Duke graduated from the University of Alabama in Huntsville with a bachelor's degree in management. He holds leadership certifications from the Henley Business School and MIT Sloan School of Management.
ABOUT POTOMAC OFFICERS CLUB
The Potomac Officers Club is owned and operated by Executive Mosaic. Since 2002, Executive Mosaic has been a leader in media and exclusive senior executive networking programs primarily targeted to the U.S. federal government contracting (GovCon) marketplace. In addition to connecting executives of consequence into a fabric of like minded communities, the company's growing cross-media platform serves as a leading source of news about the people, policies, trends and events shaping the nation's GovCon sector.
Category: Articles
Tags: Angie Lienert Constellation West Excelous Executive Profiles govcon government contracting IntelliGenesis Karen Swain Lisa Wolford Michael Ferree Qualis Roderick Duke SBA SecureStrux small business Small Business Administration women-owned small business WOSB