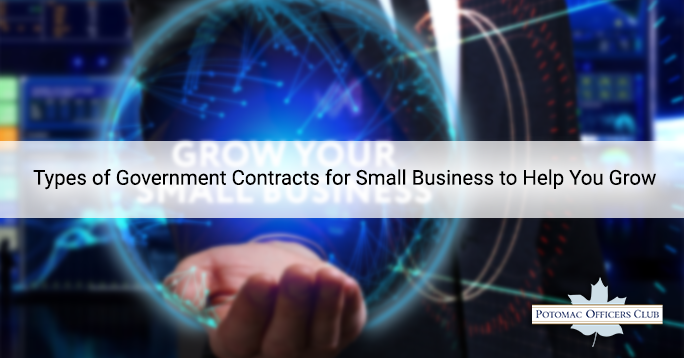 Types of Government Contracts for Small Business to help you grow
The United States government is known to be the world's largest customer of products and services. Federal agencies have incredibly diverse procurement needs, encompassing items as small as a paperclip to complex machinery and even research and technical assistance.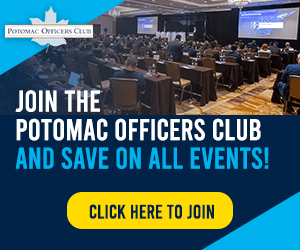 Small businesses face unique challenges when vying for government contracts, yet securing such contracts presents them with a valuable opportunity to amplify and advance their operations.
Here, we will explore the different types of government contracts and how to win them.
What Qualifies as a Small Business for Government Contracts?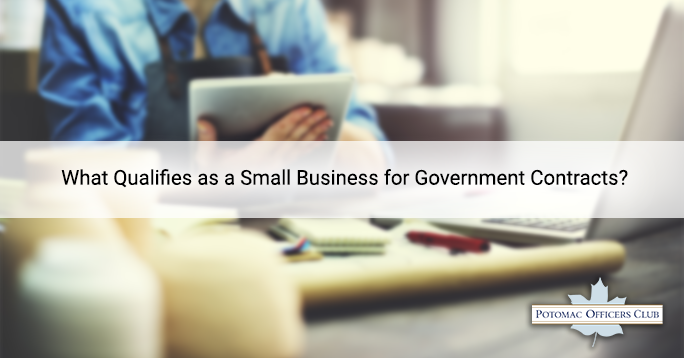 Photo by Rawpixel.com on Shutterstock.com
In order for small businesses to be considered for government contracts, it must fulfill specific qualification criteria established by the Small Business Administration (SBA), an official government organization. The SBA sets a range of standards, which may vary depending on the industry in which the small business operates.
You can utilize the SBA Size Standards tool to determine if your small business meets the business size standards. Simply enter your NAICS code and the number of employees working for your business, both full-time and part-time.
The SBA extends support to small businesses throughcontracting assistance and specialized programs for small businesses in specific socio-economic classes. Here are some of the contracting programs that may offer eligibility opportunities:
Woman-Owned Small Business (WOSB)
A woman-owned small business has the opportunity to compete for a federal contract that is specifically set aside for their socio-economic class. The federal government limits competition to participating companies in order to ensure equal treatment and fairness.
The dedicated contracting program offers numerous advantages for women-owned businesses seeking government contracts. A contracting officer can give sole-source contracts under the women-owned small business program. . These prime contracts are particularly designated for industries where women-owned small businesses and minorities are underrepresented.
Service-Disabled Veteran-Owned Small Business (SDVOSB)
A part of the federal government's contracting activity is allocated to small businesses owned by veterans who want to work with the government. To be eligible for this program, small businesses must register and undergo verification as veteran-owned small businesses (VOSB) or service-disabled veteran-owned small businesses (SDVOSB).
If you are a business owner seeking certification in the VOSB contracting program, the Department of Veterans Affairs Vets First Verification Program  can provide valuable support and guidance for your certification process.
Historically Underutilized Business Zones (HUBZones)
HUBZones-certified businesses gain a distinctive advantage with a 10% price evaluation preference in full and open competitions, strengthening their position in the competitive landscape. Beyond their eligibility for specific contracts, HUBZone businesses can also actively compete for agreements through other-socio economic programs, expanding their growth opportunities.
Participating in the HUBZone small business programs is not restricted by a specific time limit, as long as the small business continues to meet the qualifying criteria. However, annual recertification for the HUBZone small business program is mandatory, ensuring ongoing compliance. Additionally, small businesses are required to undergo a program examination every three years to uphold the program's integrity.
To ensure the accuracy of the information provided during the program application or recertification process, the Small Business Administration may conduct surprise visits and examinations of historically underutilized business zone businesses. This proactive approach ensures transparency and maintains the credibility of the HUBZone program.
Small Disadvantaged Business (SDB)
The Small Disadvantaged Business Program, established by the federal government, is another significant socio-economic initiative that secures nearly fifty billion dollars in contracts every year. However, before designating your business as an SDB, you must meet certain criteria and qualifications outlined by the Federal Acquisition Regulation (FAR).
Owner/s must be certified as socially and economically disadvantaged people.
One or more economically disadvantaged people own and run 51% of the company
It qualifies as a small business based on the standard size set by the SBA.
Your small business has the opportunity to leverage the program mentioned above. However, it's important to recognize that the benefits you may get from each program can vary significantly. Thus, it becomes your responsibility as a business owner to carefully evaluate and select the program that aligns with your business objectives, paving the way to its tremendous success. By making an informed choice, you can ensure your business thrives and flourishes within the program's framework, unlocking its full potential.
What Are the Easiest Government Contracts To Get?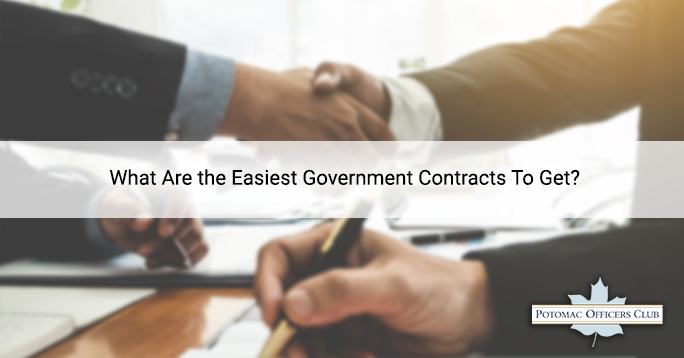 Photo by PanuShot on Shutterstock.com
The procuring federal agency presents a range of government contracts of different types, each carrying significant benefits that hold the potential to propel a small business towards substantial growth. Here are some key details regarding these contracts:
Set Aside Contracts
To maintain fair competition in the federal marketplace, the government employs specific limitations on the competition for specific contracts. Set-asides are contracts that help small businesses to compete and win federal contracts. There are two classifications for this type of contract
Competitive set-aside: Typically, competitive set-aside contracts are designated for government contracts with a value below $150,000. Government agencies reserved these contracts for two or more small businesses capable of fulfilling the requirements and delivering the work. Some set-asides are offered to all small businesses, while others are limited to those that engage in contracting opportunities programs established by the SBA.
Sole-source set-aside: In contrast to the competitive set-aside, the sole source set aside are contracts awarded without a competitive procurement process. Sole source contracts are commonly utilized when only one business possess the capabilities to meet the specification of the contract. While sole-source contracts may initially be available for potential vendors and small business owners interested in bidding, they can be withdrawn once the bidding process commences.
Joint Venture Contracts
Joint ventures or businesses can compete for government contracts available for small businesses if they meet the SBA requirements. Aside from that, once a joint venture exceeds the SBA requirements, it can also compete for contracts under various socio-economic set-asides, including historically underutilized business zones, woman-owned small businesses, and service-disabled veteran-owned small businesses set-aside contracts.
The SBA also offers a mentoring program called thementor-protégé program. Through this initiative, small business owners can form a joint venture with a large business mentor, gaining valuable guidance and expertise in navigating the federal contracting landscape.
 Fixed-Price Contracts
Fixed-price contracts are among the most challenging government contracts due to the significant risk it places on the vendor. The vendor assumes full responsibility for all expenses, earnings, and potential losses in these contracts. The defining feature of a fixed-price contract is the guarantee of a set price that will not change throughout the contract.
While this arrangement substantially burdens the contractor, it also offers distinct advantages. The fixed price gives the contractor cost control, enabling them to manage expenses efficiently. Additionally, a fixed-price contract reduces administrative complexities and streamlines the project's execution, benefiting the contractor and the government.
Cost-Reimbursement Contracts
The cost-reimbursement contract estimates the needed expenses and a budget ceiling that the prime contractor must meet and, consequently must not exceed without the consent of a contracting officer.
Incentive Contracts
Incentive contracts are employed when procurement opportunities cannot be effectively addressed by a  fixed-price contract or when the potential cost savings are significant. These contracts are designed to incentivize and reward the contractor based on their technical performance.
Indefinite-Delivery Contracts
Indefinite-delivery contracts can be used to purchase goods and services when the exact timings or volumes of future deliveries are uncertain. It is divided into three categories:
Definite-quantity contracts involve providing a predetermined number of goods and services within a specific timeframe. This kind of contract might be employed when it can be determined later that a specific number of products and services will be required throughout the contract period.
Requirements contracts establish a mutually beneficial agreement between the supplier and buyer, where the seller agrees to supply the government buyers with all the necessary products and services.
Indefinite-quantity contracts: Thesecontracts provide indefinite supplies and services within a set period. Quantity limits can be displayed in many ways, such as several units or a dollar amount.
Time-and-Materials Contracts
A time and materials contract in government contracting stands in contrast to a fixed-price contract. When changes in project scope cannot be accurately anticipated, time and material contracts are used. This type of contract is commonly utilized in industries such as construction and product development.
Labor-Hour Contracts
In these contracts, the government conducts a material cost and establishes per-hour labor, a predetermined rate, and price ceiling. In labor-hour contracts, the focus is primarily on the cost of labor, while the government takes on the responsibility of procuring the necessary materials separately.
 Letter contracts
A letter contract, also known as Undefinitized Contract Action (UCA), is a document that allows prime contractors to start performing services or delivering products immediately.
A letter contract is used by the federal government when it is impossible to establish a procurement contract in time to fulfill the deadline. However, a letter contract should still be as detailed and specific as possible.
Alongside that, the procuring agency awards a letter contract based on the price competition and the overall price ceiling. For more information about each type of contract, you may visit acquisition.gov.
How Do I Get a List of Government Contracts?
Photo by greenbutterfly on Shutterstock.com
The federal government publicizes government contracts on different official government websites and platforms. Here are some official government websites where you can find government contract lists.
SAM.gov is where all the contracts valued at $25,000 or more are posted. You can also find the previously awarded government contracts on the website, which can help you gain insights into preparing your bid successfully.
FedBizOpps
The FedBizOpps or FBO, where the federal agencies advertise their business, and publish RFIs, RFPs, and other procurement announcements, has been integrated into SAM.gov and is now called the Contract Opportunities.
Dynamic Small Business Search (DSBS)
Dynamic Small Business Search is a free-to-use and secure website that Small Business Administration (SBA) maintains, which stores and displays small business profiles registered with System for Award Management (SAM). Here, you can access several federal contracts reserved for small businesses.
SubNet
Subcontracting with another private sector or prime contractor is the best place to start in government contracting. It will better understand government contracting and help you prepare for bidding on your first prime contract. Subcontracting opportunities involve working with an established government contractor for a portion of the contract awarded to them.
By using another platform managed by the SBA called SUBNet, you can gain access to all the announcements for small businesses to explore subcontracting opportunities.
GSA.gov
The General Services Administration website is a comprehensive platform for listing federal business opportunities and procurement connections. It is widely recognized as the go-to resource for accessing the Federal Supply Schedule and Multiple Award Schedule (MAS), where various types of contracts, including service, long-term, and larger contracts can be found.
The GSA was created to facilitate government agencies engage in their interactions with small business owners. The GSA fosters economic growth and creates opportunities for entrepreneurs by promoting engagement. The GSA plays a crucial role in federal management expenses, accounting for a significant portion of the government's overall expenditure.
How Do I Get a First Government Contract?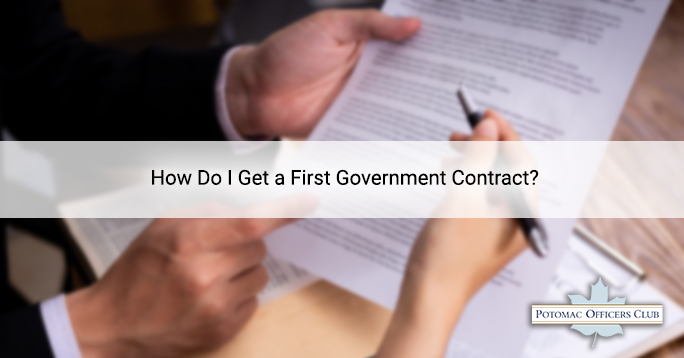 Photo by PongWatchara on Shutterstock.com
Before your business can become a prime contractor on the SBA list, it must undergo different processes. Registering your small business to qualify for government contracting opportunities is daunting at first, but by completing the fundamental steps, you will pave the way for unhindered growth in the new marketplace.
Apply for a Federal Tax ID
Once you have established your business, you can go to the Internal Revenue Service's official website to apply for a federal tax ID. Federal tax ID is essential in transacting with the federal government and opening a corporate bank account where government agencies can transfer their payments to you once the project is done.
Request For Your Unique Entity ID (UEID)
Previously, every business is required to have a Data Universal Number System (DUNS), a unique nine-digit code that quickly identifies a specific business. On April 2022, the unique entity identifier used across the federal government was changed from the DUNS Number to the Unique Entity ID. The UEID is a 12-character alphanumeric ID generated by SAM.gov.
New entities can get their Unique Entity ID at SAM.gov and, if required, complete an entity registration.
Identify your NAICS code
To identify your North American Industry Classification System (NAICS) code, simply visit their website and select the NAICS code that best describes the operations of your business.
Register Your Business at SAM.gov
Once you have accomplished the three previous requirements, you can register your small business at the System for Award Management or SAM.
As mentioned, SAM maintains a list of federal contracting opportunities that are open for procurement. It also handles the list of interested businesses willing to work with the government. So, make sure you are registered to this federal procurement data system to start bidding on government contracts.
Complete Your SBA Profile
Government agencies and contracting officers can optimize the procurement process by leveraging available resources and search tools. Contracting officers look at the vendor or contractor's SBA profile to quickly identify if a business can meet particular needs.
Your SBA profile is a quick reference point to assess whether you meet an agency's specific needs. Doing so ensures that your small business appears on the federal searchable database.