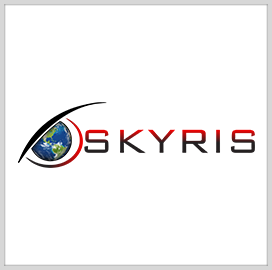 Skyris
ASGN Acquires Geospatial Intelligence Company Skyris
ASGN, a professional staffing and information technology services provider headquartered in Glen Allen, Virginia, has completed its acquisition of remote sensing and data science company Skyris.  
With the acquisition in tow, Skyris will be integrated into the mission solutions business unit of ECS, one of three segments owned by ASGN. The mission solutions business unit provides services in support of programs and missions across the Department of Defense enterprise, the intelligence community and the federal civilian sector.
Based in Fredericksburg, Virginia, Skyris delivers geospatial intelligence to the National Geospatial-Intelligence Agency as a prime contractor under contract vehicles like the Multi-Intelligence Analytical Collection Support Services contract. The company offers a proprietary data-as-a-service solution that expedites the large-scale collection and analysis of open-source intelligence data.  
In his statement, ASGN President and Chief Executive Officer Ted Hanson touted Skyris as a strong strategic fit for ECS. According to Hanson, the combination of ECS' platform of capabilities, customers, contract pathways and technology partnerships with Skyris' geospatial intelligence and data expertise will enable ASGN to reinforce its mission-critical offerings.  
In particular, ASGN noted that Skyris' expertise and relationships with NGA will enhance ECS' knowledge of the defense and intelligence community.  
On his end, ECS President George Wilson, a Potomac Officers Club member and 2020 Wash100 winner, lauded Skyris' ability to support the mission needs of its customers, especially amid the increasing demands and data requirements of the intelligence community.  
Michael McGowan, CEO and co-founder of Skyris, shared Wilson's sentiments and cited the need for improved data collection, analysis and advanced IT systems. He also welcomed the opportunity to work with ECS to address the proliferation of geospatial data.  
Category: Member News
Tags: acquisition ASGN Incorporated Department of Defense ECS Federal George Wilson geospatial intelligence Member News Michael McGowan National Geospatial-Intelligence Agency Potomac Officers Club Skyris Ted Hanson U.S. Intelligence Community