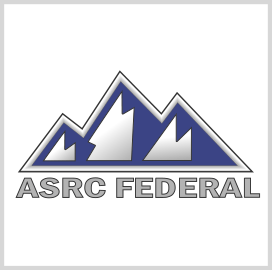 ASRC Federal
ASRC Federal Announces Launch of New Brand
Federal solutions provider ASRC Federal has announced the launch of its new brand, which the company said represents its bid to support a growing number of government missions. 
Company President and CEO Jennifer Felix, a Potomac Officers Club member, said the move reflects ASRC Federal's commitment to delivering services "with quality, passion, focus and humility."
"The new ASRC Federal brand demonstrates our evolution as a company and represents us more effectively as we deliver our full breadth of expertise. We also believe the new brand will enhance our ability to recruit top talent across the country in support of customer missions," Felix said.
The new brand includes a new logo, tagline and website, in addition to new visuals and capability-focused messaging. According to the company, the rebranding initiative highlights corporate legacy and heritage. 
Pointing to Felix's recent appointment to president and CEO, ASRC Federal affirmed its drive to help federal civilian, defense and intelligence agencies achieve successful mission outcomes and elevated performance. 
Felix is a 25-year industry veteran with experience in finance, business operations and organizational change management, mergers and acquisition, due diligence, integration and strategy. 
"The professionalism, creativity and resolve of our people is truly inspiring and has never been more evident or important as it is at this moment. I am proud to lead an organization with such a strong culture and enduring commitment to our customers' missions," Felix said in a press release posted in April. 
ASRC Federal is a defense and space company headquartered in Beltsville, Maryland. 
The company is composed of a family of business units that deliver digital operations and information technology modernization, software, applications and analytics, engineering solutions, professional services and infrastructure operations.
Category: Member News
Tags: analytics ASRC Federal defense engineering federal civilian federal solutions information technology intelligence Jennifer Felix logo Member News modernization professional services rebranding tagline website