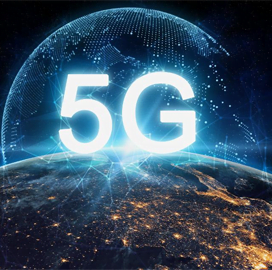 5G
AT&T to Deploy 5G Technology in Three Air Force Bases
Telecommunications company AT&T will provide network tools and 5G technology to three U.S. Air Force bases, to support the agency's efforts in adopting emerging technologies. 
The company will deliver the system to 24,000 personnel across Buckley Air Force Base in Colorado, Joint Base Elmendorf-Richardson in Alaska and Offutt Air Force Base in Nebraska. 
The organization has finished the 5G network design across the installations. Complete delivery of the services is scheduled by the end of 2021, C4ISRNET said Thursday.
In addition, the company is also providing base area network, wide area network, telephony, internet access and secure interoperability with legacy systems at the said bases.
Anne Chow, AT&T Business CEO, said the company is committed to bringing 5G and other innovative commercial networking-as-a-service capabilities to the Air Force. 
"We are helping the Air Force optimize the value of our 5G and other networking capabilities at these 3 bases and stand ready to work with them to extend these services across the entirety of the Air Force if they so choose," she said.
The agency awarded the contract with the other transaction agreements under the enterprise IT as a service program, which is meant to increase network speeds and modernize IT infrastructure at the service's bases to support multi-domain operations.
The company said the 5G and networking-as-a-service capabilities will be implemented to strengthen the Air Force's initiatives on other latest technologies, including the internet of things, augmented and virtual reality, robotics, drones and network edge storage and computing.
Col. Justin K. Collins, deputy of the Air Force's enterprise IT and cyberinfrastructure division, said the organization expects 5G service will improve the user experience and support a broad range of use cases that can enhance mission effectiveness.
 "We think it is vital to test commercially provided services like 5G and software-based networking-as-a-service capabilities as we explore ways to help us innovate and improve our global air, space and cyber readiness," he said.
Category: Future Trends
Tags: 5G Anne Chow AT&T C4ISRNET Col. Justin Collins EITaaS IT modernization Enterprise IT as a Service Future Trends U.S. Air Force