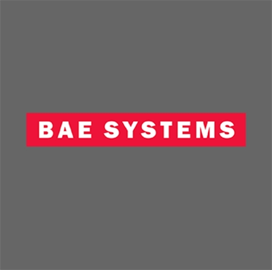 BAE Systems
BAE Wins $85M AFRL Contract for Cross-Domain Solution Development
BAE Systems announced that it has won an $85M Air Force contract to continue developing, deploying, modernizing and maintaining cross-domain solutions for securely transferring information between government networks.
The five-year contract was awarded by the Air Force Research Laboratory. Work on the contract will enable the secure transfer of streaming video, images, audio and other data to for better mission collaboration, BAE said Wednesday.
"Our services will provide end-users access to virtual information and analysis faster, allowing them to make informed decisions quickly," said Pete Trainer, BAE's vice president and general manager of Air Force solutions.
The scope of BAE's work will also include the research, development and evaluation of new technologies, including the integration of artificial intelligence and machine learning capabilities. 
"We are pleased to continue our long-standing partnership with the Air Force Research Laboratory and provide our expertise in high-assurance, cross-domain technologies to meet this new mission need," Trainer added.
BAE is a defense and space company headquartered in London, England. It specializes in combat systems, aeronautics products, land and armaments, ship repair, avionics, navigation, information technology, reconnaissance and surveillance and space electronics, according to its LinkedIn profile.
The company also provides offerings related to communications, cyber, intelligence, aircraft manufacture and engineering. 
AFRL is a scientific research organization that operates under the Air Force's Materiel Command and is was created to lead the discovery, development and delivery of warfighting technologies to air, space and cyberspace forces, according to its website. 
Category: Contract Vehicles
Tags: AI Air Force Research Laboratory artificial intelligence BAE Systems Contract Vehicles cross-domain cyberspace data transfer machine learning Pete Trainer U.S. Air Force