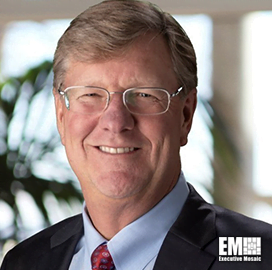 Rob Strain
President
Ball Aerospace
Ball Aerospace President Rob Strain Named DIB SAC Subcommittee Member
Ball Aerospace President Rob Strain has joined the Defense Innovation Board Space Advisory Committee as a subcommittee member to help address issues in the space domain. 
With over three decades of experience in the aerospace sector, Strain is expected to provide the organization with expertise in resolving current and future challenges and opportunities in the industry. 
John A. Hayes, chairman, president and CEO at Ball Corporation, said that with his background, Strain is expected to make significant contributions to the DIB advisory panel. "Rob is extremely committed to the aerospace industry and has a long track record of leadership in both the public and private sectors," he said. 
Strain believes the subcommittee will be vital in shaping the nation's path forward in space exploration, technology development and strategy. "I am honored and humbled to play even a small role in determining how our country will address the many complex challenges in this increasingly dynamic environment," he said. 
Before joining Ball in 2012, Strain was the director of NASA's Goddard Space Flight Center for almost four years. He headed the operations of over 13 space missions, including the rebuilding of the James Webb Space Telescope and the last shuttle servicing mission to the Hubble Space Telescope. 
Prior to NASA, Strain served as the head of the Space Department at the Johns Hopkins University Applied Physics Laboratory in Laurel, Maryland. He was part of the team that developed, launched and operated New Horizons Spacecraft to Pluto. During his four-year tenure, he was also in charge of the National Security business area that helped the Department of Defense and other government units. 
Early in his career, Strain was the executive vice president for space systems from 1994 to 2004 at Orbital Sciences and the executive vice president at Fairchild Space and Defense from 1989 to 1994. 
Strain earned his bachelor's degree in accounting from Western Michigan University.
Category: Partnerships and Executive Moves
Tags: Ball Aerospace Defense Innovation Board Department of Defense John Hayes Johns Hopkins University Applied Physics Lab NASA Partnerships and Executive Moves Rob Strain Space Advisory Committee