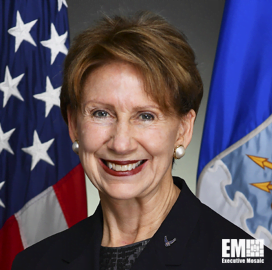 Barbara Barrett
Secretary
Air Force
Barbara Barrett, Air Force Secretary
Barbara Barrett is the 25th secretary of the Air Force. She leads a military service made up of 695K active duty, guard, reserve and civilian airmen and Space Force personnel. 
Barrett directs strategy, policy, acquisitions, technology, personnel and risk management, implementing the directives of the president and Congress to fulfill combatant commanders' operational requirements, the Air Force said. 
Before taking on her current role in October 2019, Barrett served as the CEO of Triple Creek Ranch, a secluded mountain retreat in Darby, Montana. She was also the CEO of the American Management Association. 
She previously served as the U.S. ambassador to Finland, the deputy administrator of the Federal Aviation Administration and the vice chairman of the U.S. Civil Aeronautics Board. 
Barrett was a strategic leader of organizations focused on space, aeronautics, science, defense and diplomacy. She most recently served four terms as chairman of the board of The Aerospace Corporation and was on the boards of RAND and the California Institute of Technology.
She has also chaired groups such as the U.S. Advisory Commission on Public Diplomacy, the U.S. Commerce Secretary's biennial Export Conference and the Department of State's Women's Economic Empowerment Working Group. 
Barret is an instrument-rated pilot and was trained and certified for spaceflight. She earned a bachelor's degree in liberal arts and a master's degree in international business from Arizona State University, Tempe.
Her major awards and decorations include the Secretary of Defense's Medal for Exceptional, the Leadership in the Nation's Interest Award, a Sandra Day O'Connor Board of Excellence Award and the Sister Cities International's Diplomatic Leadership Award. 
Category: Executive Profiles
Tags: Air Force American Management Association Arizona State University Barbara Barrett Executive Profiles RAND Space Force The Aerospace Corporation Triple Creek Ranch U.S. Civil Aeronautics Board