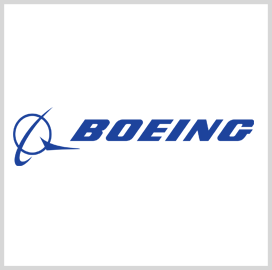 Boeing
Boeing, Australian Air Force Flight-Test Uncrewed Aircraft
Boeing said it has completed the first test flight of the Loyal Wingman uncrewed aircraft in collaboration with the Royal Australian Air Force.
A Boeing test pilot monitored the aircraft from a ground control station at the Woomera Range Complex. The Loyal Wingman is the first military aircraft to be designed and manufactured in Australia in more than 50 years, Boeing said.
Leanne Caret, president and CEO of Boeing's defense, space and security business, said RAAF plans to pioneer fully integrated combat operations by crewed and uncrewed aircraft, as well as human-machine air teams. Caret is a Potomac Officers Club member and a 2021 Wash100 winner.
Air Vice-Marshal Cath Roberts, RAAF's head of capability, said the Loyal Wingman project will set the stage for future integrations of autonomous systems and artificial intelligence technologies.
Roberts added that RAAF will use the lessons learned from the project to inform how to integrate new capabilities to improve air combat functions and other missions.
The Loyal Wingman project involved the support of more than 35 Australian industry teams. Boeing said it provided model-based engineering techniques such as digital twins to digitally flight-test missions.
Digital twins are digital representations of real-world objects and are commonly used in modern engineering. The U.S. Air Force recently launched its own research effort to develop digital twins to more quickly and cost-effectively fix or upgrade future capabilities.
The AI-powered aircraft will fly alongside other platforms to enable synergy among crewed and uncrewed assets, Boeing said
The company added that the Loyal aircraft will serve as the foundation for the Boeing Airpower Teaming System that is developing for various customers worldwide.
Category: Member News
Tags: AI Air Force artificial intelligence Australia Boeing digital twin Leanne Caret Loyal Wingman Potomac Officers Club RAAF Royal Australian Air Force Wash100 Woomera Range Complex