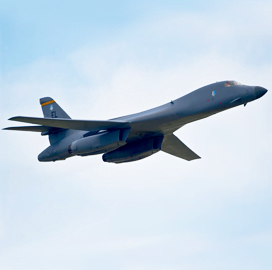 B-1B Lancer
Boeing's B-1B Lancer Seen to Launch Hypersonic Missiles
The B-1B Lancer has launched a cruise missile from an external pylon for the first time in a test flight held on Dec. 4 at Holloman Air Force Base in New Mexico. Also known as "the Bone," the aircraft fired an inert AGM-158 joint air-to-surface standoff missile from an external pod, Defense News reported Thursday.
To date, B-1 is one of three strategic bombers in the U.S. Air Force fleet along with the B-2 Spirit and the B-52 Stratofortress.
The demonstration showed that the military plane can be adjusted to transport weapons externally. The capability is expected to give way for the supersonic bomber to launch hypersonic missiles as soon as they become accessible.
"Arming a limited number of B-1s with more weapons externally, could enable Global Strike Command to provide more weapons for geographic Combatant Commanders while putting fewer aircraft and aircrew in harm's way," said Gen. Tim Ray, commander of Air Force Global Strike Command.
The test was performed by the 419th Flight Test Squadron with a B-1 assigned to the 412th Test Wing at Edwards Air Force Base, California. Boeing is the main contractor for the aircraft while Lockheed Martin builds the JASSM.
According to the Defense News report, to shoot the JASSM externally, the Air Force group reassigned one of the B-1′s internal weapon stations to the hardpoint on the forward right-hand side of the aircraft. 
In addition, the service team changed the pylon itself  "to allow for different connector configurations, and the internal wiring was replaced with harnesses that would support its new role," said N. Keith Maynard, special instrumentation flight chief for the 812th Airborne Instrumentation Test Squadron.
In 2019, the service tested modifications to its internal bomb bay to allow the plane to carry heavier weapons. In November, the B-1B carried an inert JASSM missile on a pylon under the fuselage for the first time, further expanding the aircraft's weapons load.
Category: Future Trends
Tags: Air Force Global Strike Command B-1B Lancer David Faggard Defense News Future Trends hypersonic missiles hypersonics Joint Air-to-Surface Standoff Missile Tim Ray US Air Force