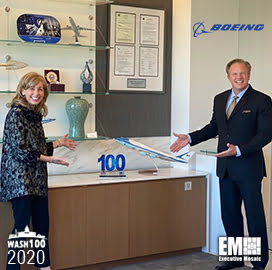 Leanne Caret
and Jim Garrettson
Boeing's Leanne Caret Bags Fourth Consecutive Wash100 Award
Leanne Caret, the president and CEO of Boeing's defense, space and security unit and a Potomac Officers Club member, has received her fourth consecutive Wash100 award, a recognition bestowed on influential executives in the government contracting sector.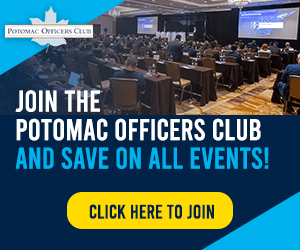 Executive Mosaic founder and CEO Jim Garrettson honored Caret for her leadership in the development of the Starliner spacecraft, winning major defense contracts for Boeing and advancing aerospace technology. 
"I actually remain very confident in the investments we made on both the MQ-25 and the T-7. … We had already redesigned, reimagined, how are we going to use advanced modeling and simulation and digital twins," Caret said.
In a recent interview with Defense News, Caret expressed confidence in Boeing's investment in advanced manufacturing and digital engineering technologies in support of the Navy's MQ-25 unmanned tanker and the Air Force's T-7 trainer.
She is credited with greatly contributing to Boeing's advancement in the defense sector in 2019, which had a focus on space exploration. 
Caret supervised Boeing's premier spacecraft launch of the CST-100 Starliner at the White Sands Missile Range in Mexico in December 2019.
"It was an absolute bullseye, better than I think anybody anticipated. That's good for the agency, it's good for Boeing; that's good for the United States of America," said NASA Administrator Jim Bridenstine, a past Wash100 winner. 
Another of her notable accomplishments is Boeing's win of a 10-year, $14.3B contract to modernize the weapons systems on the Air Force's B-1 Lancer and B-52 Stratofortress bomber platforms. 
Executive Mosaic, an international leadership organization and media company, selects Wash100 awardees based on its internal team's decision and the results of online nominations. 
Category: Member News
Tags: Air Force B-1 Lancer Air Force T-7 trainer B-52 Stratofortress Boeing Boeing Defense Space & Security CST-100 Starliner defense sector Executive Mosaic GovConWire Jim Bridenstine Jim Garrettson Leanne Caret Member News NASA Potomac Officers Club space exploration WAash100 Wash100 White Sands Missile Range