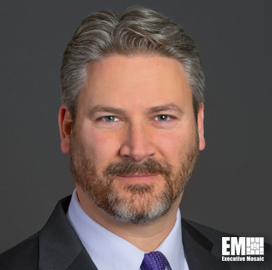 Brandon Ginsburg
Brandon Ginsburg Named NT Concepts SVP, CGO
NT Concepts, an information technology services company based in Vienna, Virginia, has appointed Brandon Ginsburg, a member of the Potomac Officers Club, as its new senior vice president and chief growth officer. 
In his new role, Ginsburg will be responsible for expanding NT Concepts' growth across the national security technical solutions market. Ginsburg is expected to mature the company's growth model, spanning key areas such as business development, capture, price to win, proposal and marketing, Intelligence Community News reported.
He will also be tasked with helping NT Concepts stand out within the data operations, machine learning, and software development mission space.
Citing his expertise in market expansion and deep experience in the intelligence sector, NT Concepts President Darin Powers believes Ginsburg will help the company discover new opportunities to address the data and technology problems across its customer base. Powers, who is also a POC member, acknowledged that Ginsburg embraces NT Concepts' core values and vision toward becoming an exceptional, purpose-driven, mission-focused company.
With over 15 years of industry experience, Ginsburg has gained expertise in business development, investment, market, customer and competitive analysis, technology, and workforce strategy for the national security sector, according to his LinkedIn profile.
He transitioned to NT Concepts after serving nearly seven years for defense company Leidos, where he held the roles of vice president of business development and strategy and business development manager. While at Leidos, he managed the company's business opportunity lifecycle and led a team of business development managers, capture managers and subject matter experts. He was also in charge of strengthening Leidos' position in the intelligence community, Department of Defense and federal/civil markets. 
Ginsburg was also an eight-year assistant vice president of business development for Science Applications International Corporation. The role gave him responsibility over the company's IC customers, strategy development, capture management, proposal support and business opportunity pipeline management. 
Ginsburg attended the University of Texas at Austin and the University of Maryland, where he completed his master of business administration degree in business.
Category: Member News
Tags: Brandon Ginsburg Chief Growth Officer Darin Powers executive movement Intelligence Community Intelligence Community News Leidos machine learning Member News national security NT Concepts POC Potomac Officers Club SVP