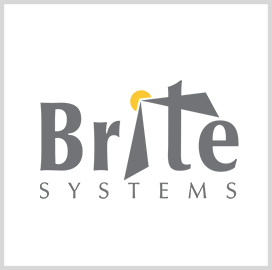 Brite Systems Secures GSA MAS for Cloud, IT, Software Services
Brite Systems, an information technology company, announced that it has been awarded the General Service Administration Multiple Award Schedule. 
GSA MAS, also known as Federal Supply Schedules, are long-term government contracts with companies that provide federal, state and local government buyers with products at discounted prices, Brite systems said Tuesday. 
"All our past successful cloud implementations were recognized by GSA in awarding MAS Schedule with SIN 518210C – Cloud and Cloud-Related IT Professional Services," Brite Systems President Leena Victoria said. 
Brite Systems was also cleared to participate as a prime contractor for software maintenance services and IT professional services under separate special item numbers.   
SINs make it easier for contractors and federal agencies to conduct transactions for products, services and solutions, according to the GSA website. They are part of the agency's plan to modernize and modernize its transactions through simplified terms and conditions. 
"We at Brite take great pride in providing successful solutions to our federal, state and local government clients by adding value to their business since 2006," Victoria said. 
In a press release, Brite Systems said the award demonstrates the company's strong performance in delivering IT services to public-sector agencies. 
Brite Systems is a privately held IT company based in Indianapolis, Indiana. The company provides expertise in technologies such as cloud, artificial intelligence and robotic process automation.
According to its LinkedIn profile, Brite Systems also specializes in software application development, IT strategic staffing, project management, consulting services, security assessment and penetration testing. 
Category: Future Trends
Tags: AI artificial intelligence Brite Systems Future Trends General Services Administration GSA GSA Multiple Award Schedule hybrid cloud Leena Victoria LinekdIn robotic process automation RPA SIN