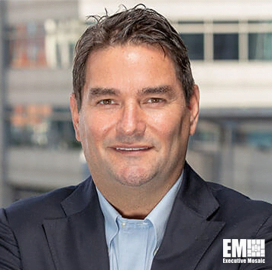 Bryan Rich
Managing Director
Accenture Federal
Bryan Rich, Managing Director and Applied Intelligence Lead at Accenture Federal Services
Bryan Rich has been serving as managing director and applied intelligence lead at Accenture Federal Services since June 2018.
Rich, who brings over 20 years of data science and operational intelligence experience to the role, leads the business unit tasked to sustain and provide advanced analytics and artificial intelligence services to federal government customers, the company said.  
He also oversees the Accenture Federal AIP Discovery Lab, a studio-type setting that combines AI technologies including data science and design, machine learning and cognitive automation. The lab is meant to provide and develop technological innovations for the federal market. 
Biniam Gebre, the company's managing director for management consulting, expresses confidence about Rich's expertise in operational and applied technology. His knowledge and experience is anticipated to improve the company's analytics practice.  
Gebre adds that Rich has the skills to find the appropriate combination of data science, management consulting teams and applied technology teams to provide their customers with enhanced services.
Tom Greiner, senior managing director for the technology business, said the company's federal customers are expected to gain from Rich's talent in using the organization's available resources, technology and connections to address their requirements and problems. 
Before joining Accenture, Rich served for more than three years as senior vice president for analytics at Novetta Solutions, Carlyle Group-owned business that provides software services mainly to defense agencies and intelligence communities. 
Rich was the founder and CEO of Global News Intelligence, a company that offers data analytics as a service. He led the organization for 11 years until the Carlyle Group acquired it in 2014.  
A former TV and radio producer, Rich graduated from Middlebury College with a degree in English literature and Latin American studies. He also became a fellow on media, business and technology at Harvard University Nieman Foundation for Journalism.
Category: Executive Profiles
Tags: Accenture Federal Services analytics applied intelligence artificial intelligence Bryan Rich Executive Profiles Global News Intelligence LinkedIn Novetta