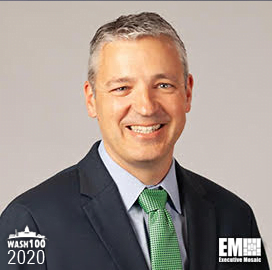 Byron Bright
Byron Bright, Three Others Join PSC's Board of Directors
The Professional Services Council has welcomed Carl De Groote, Ronald Hahn, Oliver Jeannot and Byron Bright, a Potomac Officers Club member, into the organization's board of directors. 
The four federal government services industry veterans will share their expertise with PSC's leaders to help them promote competition and fairness in the government contracting sector, GovCon Wire reported.
Bright, a 2020 Wash100 winner, serves as the president of KBR's U.S. government solutions business unit. He brings into the position over two decades of experience in leadership, operations and program management. 
He joined KBR in July 2010 and has served as its vice president of business development for government and logistics; VP of business development for infrastructure, government and power; and senior VP of operations. 
PSC CEO and President David Berteau, a two-time Wash100 awardee, said he expects the new board members to "elevate PSC's voice on behalf of the industry."
"The reality of navigating an unprecedented pandemic and an evolving federal budget requires that we work together to take best advantage of the value contractors bring to government missions and programs," Berteau said. 
Hahn, Amentum's executive VP pf strategic growth, brings into his new role more than three decades of experience in the defense industry and the government. 
He has provided consulting support to NATO, the Joint Chiefs of Staff and the departments of Defense and State. Hahn also served as AECOM's EVP of critical infrastructure protection strategies.
De Groote serves as Cisco Systems' VP of U.S. federal business and senior firector for U.S. defense. Jeannot is the president of Tetra Tech's federal information technology business.
Category: Uncategorized
Tags: AECOM Amentum Byron Bright Carl De Groote GovCon Wire KBR Oliver Jeannot POC member PSC Ronald Hahn