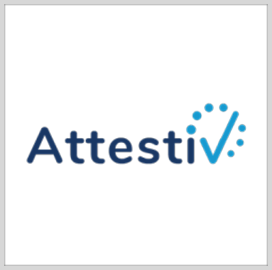 Attestiv
Carahsoft to Offer Attestiv's Media Validation Platform
Attestiv, a media validation service provider, has partnered with Carahsoft to offer authentication and detection solutions to the public sector. 
Under their agreement, Attestiv's offerings will be made available through Carahsoft's NASA Solutions for Enterprise-Wide Procurement V, National Association of State Procurement Officials Valuepoint, National Cooperative Purchasing Alliance and OMNIA Partners contracts, in addition to Carahsoft's reseller partners. 
"Attestiv's automated workflows for media capture enable digital transformation of processes while allowing any stakeholder in an organization to validate the integrity of photos and videos," Attestiv Chief Operating Officer Mark Morley said. 
Morley said the partnership's primary goal is to increase the protection of critical data used in government agencies.  
Attestiv offers a media validation platform powered by artificial intelligence and blockchain technologies. The platform was designed to determine whether media files have been altered and identify what changes have occurred.
According to Carahsoft, the Attestiv platform will help government agencies authenticate important photos, videos and documents while facilitating more efficient and cost-effective processes.
The offering also features customizable workflows for image and video capture to make data acquisition easier and ensure the integrity of files. 
"The platform helps improve government decision makers' confidence in the integrity of data and provides greater visibility into file histories to help IT teams identify potential fraud and insider threats, said Phillip Carroll, manager supporting the Attestiv team at Carahsoft. 
Attestiv is an information technology and services company based in Natick, Massachusetts. The organization specializes in blockchain, deep fake prevention, AI, photo authentication, video authentication and insurance technology.  
Category: Partnerships and Executive Moves
Tags: artificial intelligence Attestiv blockchain Carahsoft information technology Mark Morley NASA Solutions for Enterprise-Wide Procurement National Association of State Procurement Officials partnerships Partnerships and Executive Moves Phillip Carroll SEWP V workflow