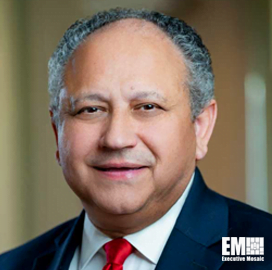 Carlos Del Toro
President, CEO
SBG Technology Solutions
Carlos Del Toro, President and CEO of SBG Technology Solutions
Carlos Del Toro is the president and chief executive officer of SBG Technology Solutions, a service-disabled veteran-owned small business headquartered in Alexandria, Virginia.
He leads a small business that provides information technology and engineering services and products to clients including the Navy, the Army, the Defense Health Agency and the departments of Defense and Veterans Affairs.
Under Del Toro's leadership, SBG Technology Solutions expanded from initially offering mid-tier federal agency-based services to now providing agile, customized and scalable solutions, according to his company profile.
With a career spanning more than 20 years, the executive is experienced in program management, joint and service-specific military operations, space systems engineering, civilian and military telecommunications, health IT and legislative affairs.
His LinkedIn profile shows that he was a former member of JDRF, a non-profit organization that funds type 1 diabetes research. At one point during his 27-year membership with JDRF, he was the president of the organization's capital chapter.
He also spent two years working for the Office of the Secretary of Defense as a senior military assistant. Additionally, he served as special assistant to the director of the White House Office of Management and Budget.
Del Toro also has 27 years of military service, during which time he held the role of commissioning commanding officer of the USS Bulkeley.
He currently sits on the U.S. Chamber of Commerce Council on Small Business, where he leads the procurement committee.
He holds a bachelor's degree in engineering from the U.S. Naval Academy and a master's degree in legislative affairs from The George Washington University. He also completed a master's degree in space systems engineering from the Naval Postgraduate School.
Category: Executive Profiles
Tags: Carlos Del Toro Executive Profiles LinkedIn SBG Technology service-disabled veteran-owned small business