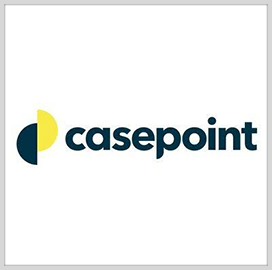 Casepoint Announces Moderate FedRAMP Authorization of E-Discovery Solution for Government
Casepoint, a legal technology and service provider, announced that its cloud-based Casepoint Government platform has achieved Federal Risk and Authorization Program authorization at the Moderate level. 
With the new authorization, Casepoint Government may now be used by public-sector clients for their litigation, investigation, compliance and Freedom of Information Act needs, Casepoint said Monday.  
"By achieving this authorization, we are able to help the federal government leverage artificial intelligence and advanced analytics-based tools that are built into our eDiscovery technology," said Amy Hilbert, Casepoint's vice president of public-sector affairs.
The FedRAMP authorization follows the Securities and Exchange Commission's selection of Casepoint's solution to move the agency's electronic discovery process to the cloud.
E-discovery is any process where electronic data is sought, located, secured and searched to be used as evidence in a civil or criminal legal case, according to SearchSecurity. 
Casepoint said it secured SEC's sponsorship for the authorization and fast-tracked it through the FedRAMP Agency Authorization Process.
The company added that the authorization was achieved only a few months after Casepoint Government was designated "In Process." 
"Casepoint has accomplished in a year what it takes many vendors several years to get done. That's a testament to the rigor and culture of security that has been embedded in our company from the beginning," said Sundhar Rajan, Casepoint's chief information officer. 
FedRAMP is a compliance framework administered to standardize the security assessment, authorization and continuous monitoring of cloud products and services used by federal agencies, the FedRAMP website said.
Casepoint is a privately held enterprise e-discovery company based in Tysons, Virginia. According to its LinkedIn profile, it also provides litigation and consultancy services.
Category: Future Trends
Tags: AI Amy Hilbert artificial intelligence Casepoint Casepoint Government cloud Federal Risk and Authorization Management Program FedRAMP Future Trends LinkedIn SearchSecurity SEC Securities and Exchange Commission Sundhar Rajan