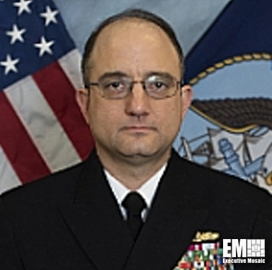 Casey Moton
PEO USC
Navy
Casey Moton, Navy's PEO for Unmanned Small Combatants
Casey Moton commands the Navy's Program Executive Office for Unmanned and Small Combatants. The role acts as a single program executive responsible for acquiring and maintaining the Navy's small combatants, mine warfare systems and unmanned maritime systems end to end.
The PEO USC oversees programs that support the Littoral Combat Ship, Future Frigate, International Small Combatants, surface warfare mission modules, anti-submarine mission modules, mine countermeasures, mining, unmanned surface vehicles and unmanned underwater vehicles, the Navy said. 
Moton has led two major defense acquisition programs. In 2014, he led the LCS Mission Modules program and the development and testing of mission packages for surface warfare, mine countermeasures and anti-submarine warfare.
From 2016 to 2019, he served as the major program manager for the DDG 51 project. Moton's service helped restart the production of DDG 51s, in addition to placing an additional 12 ships under contract. 
According to his LinkedIn profile, Moton has been serving as a lower-half rear admiral for the Navy since 1991. He qualified as a surface warfare officer while serving on the USS Monterey as main propulsion assistant and anti-submarine warfare officer.
He was deployed in 2009 as an individual augmentee supporting Operation Enduring Freedom and managing U.S. forces facilities construction in Kabul for Combined Security Transition Command-Afghanistan. 
Moton's awards and decorations include the Legion of Merit, Defense Meritorious Service Medal, Meritorious Service Medal and various other personal, service, campaign and unit awards. 
He earned a bachelor's degree in naval architecture from the U.S. Naval Academy and a master's degree in mechanical engineering from the Massachusetts Institute of Technology. 
Category: Executive Profiles
Tags: Casey Moton DDG-51 Executive Profiles LCS Mission Module mine warfare system MIT PEO-USC U.S. Naval Academy U.S. Navy unmanned maritime systems