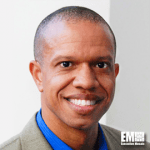 Cedric Sims
Cedric Sims, Booz Allen's SVP for Justice, Homeland Security, Transportation
Cedric Sims serves as a senior vice president within Booz Allen Hamilton's business unit for justice, homeland security and transportation. 
He provides expertise in cyber and analytics in support of Booz Allen's business with the Department of Homeland Security, Booz Allen said. 
Sims leverages over 25 years of homeland security experience related to acquisitions, risk management, cybersecurity, capital planning, program governance and systems engineering.
He currently also holds senior advisory roles in the Homeland Security Dialogue Forum and the Homeland & Defense Business Council. 
Before joining Booz Allen in 2018, Sims served as the president and CEO of the Evermay Consulting Group, an acquisition strategy specialist that facilitates partnerships between industry and the government.
Sims created and led the DHS Office of Program Accountability and Risk Management. In that role, he handled a program execution portfolio that included policy, governance, support services, program management certification and risk management.
Prior to his DHS career, Sims held leadership roles in the Secret Service, where he oversaw a future operations concept and helped develop a portfolio-based budget. 
His other roles in the Secret Service included network management branch chief, senior infrastructure officer and interagency coordinator. 
Near the beginning of his professional career, Sims served as a program manager at the Texas Center for Applied Technology and as a consultant at SAE. 
Sims earned bachelor's degrees in computer science and journalism and a doctorate in engineering from the Agricultural and Mechanical College of Texas. He later spent a decade holding research and program management roles at several of the university's institutes. 
Category: Executive Profiles
Tags: Booz Allen Hamilton Cedric Sims cybersecurity Department of Homeland Security Evermay Consulting Group Executive Profiles SAE Secret Service systems engineering Texas A&M