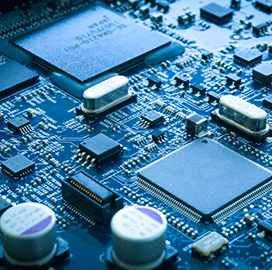 Semiconductors
Chipmaker CEVA Enters Open Licensing Agreement With DARPA
CEVA, a licensor of wireless connectivity and smart sensing technologies, has entered into an open licensing agreement with the Defense Advanced Research Projects Agency.
The partnership provides DARPA with a framework under which the agency's organizations can access commercially available intellectual properties, tools and support services, CEVA said Tuesday.
"Our partnership with DARPA extends the reach of our advanced DSPs, AI Processors and wireless IPs to the DARPA research programs and its ecosystem," said CEVA CEO Gideon Wertheizer.
CEVA will support DARPA as part of the Toolbox initiative, an agency-wide effort aimed at providing the Department of Defense's researchers with open licensing opportunities with commercial technology vendors.
Commercial vendors that successfully enter the Toolbox initiative have an opportunity to take advantage of DARPA's research and create new revenue streams based on programmatic goals achieved through their technologies.
Toolbox program head Serge Leef said that such partnerships streamline DARPA organizations' access to cutting-edge technologies. 
"CEVA's portfolio of processors, platform IP and software offer a compelling proposition to our researchers engaging in a range of projects requiring wireless communications or context-aware computing," Leef said.
CEVA joined Arm and Verific as the first wave of technology companies that entered into commercial partnership agreements under the Toolbox program. 
DARPA researchers are expected to benefit from having access to CEVA's processors, tools and support for technical areas that related to the company's wireless connectivity and smart sensing portfolio.
The company's technology portfolio includes digital signal processing, short-range connectivity, sensor fusion, computer vision, sound processing and artificial intelligence. 
Category: Partnerships and Executive Moves
Tags: AI Arm artificial intelligence CEVA DARPA Gideon Wertheizer Intellectual Property license open licensing agreement partnership Partnerships and Executive Moves processor semiconductor Serge Leef Toolbox Verific wireless