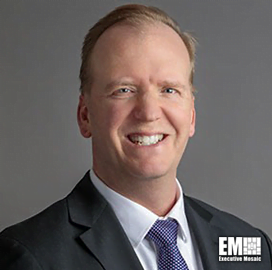 Christopher Barnett
VP and CTO
Noblis
Christopher Barnett, VP and CTO at Noblis
As vice president and chief technology officer at Noblis since October 2018, Christopher Barnett oversees the direction, management and strategy of the company's labs, patent portfolio, innovation and technology initiatives. He is also a member of the organization's programs, including centers of excellence, cross-company centers and sponsored research, according to his Linkedin profile. 
Barnett brings into the role almost 30 years of technology consulting and management experience for clients in the intelligence community, Department of Defense and other federal agencies. He also specializes in security architecture, cybersecurity activities and national security policy and strategies. 
Prior to Noblis, he spent nearly six years at General Dynamics Information Technology, where his most recent position was vice president and CTO for the intelligence solutions division. His responsibilities included implementing cybersecurity, cloud and application development for the company's $5B business segment. During his tenure, he also became chief security architect and cybersecurity strategy lead, responsible for technical analysis for mergers and acquisitions. 
Previously, Barnett served at Northrop Grumman in various capacities. In his over nine-year stint, he became a lead for cybersecurity operations for the joint task force global network operations, overseeing operations and security for the Department of Defense networks and information. 
Early in his career, he served at different companies as an engineer, manager and system operator. He joined organizations such as Mitre, Veridian (now General Dynamics), Image Information and Infinite Data Source. He started his profession as a financial analyst at PaineWebber Group and S.G. Warburg (now UBS) and as an economist at the U.S. Congress' Joint Economic Committee. 
Barnett earned his bachelor's degree in economics from Ohio University and master's degrees in business administration from the University of Virginia and information technology from George Washington University.
Category: Executive Profiles
Tags: Chief Technology Officer Christopher Barnett Executive Profiles General Dynamics Information Technology George Washington University LinkedIn MITRE Noblis Northrop Grumman Ohio University PaineWebber Group S.G. Warburg University of Virginia