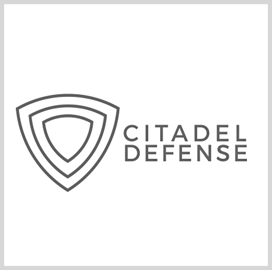 Citadel Defense
Citadel Defense Secures Multimillion-Dollar Order for Automated Counter-Drone Technology
Citadel Defense has received another order for its artificial intelligence-powered counter small unmanned aircraft system.
Under a multimillion-dollar contract, Citadel Defense will deliver Titan systems to meet a government client's requirements for automated counter-drone capabilities. The company's Titan technology was chosen after a competitive evaluation of two dozen counter-drone systems.
Titan is an automated C-UAS technology that relies on radio frequency sensors to track, identify and safely land enemy drones without disrupting common communications. The counter-drone system can detect controller, video, telemetry and WiFi communication links from 400MHz to 6GHz.
The counter-drone technology's AI capabilities also enable it to respond faster in mobile, autonomous operations and securely identify drone threats in air, land and sea domains.
With its AI-powered detection, swarm identification and surgical strike capabilities, Titan can protect troops and high-value assets against individual drone threats and swarm attacks, serving as a cost-effective replacement for larger and more expensive multi-sensor systems.
Citadel Defense acknowledges the need for a C-sUAS system that can be regularly and easily updated to address increasing threats posed by commercial drone platforms. 
According to the company, an effective counter-drone technology requires AI, machine learning and adaptive countermeasures. 
"New commercial UAS platforms have over 100 controller settings that can change a drone's communication signature. Library-dependent and cyber-focused systems simply can't keep up," said Citadel Defense CEO Christopher Williams. 
Citadel has seen an increase in customer orders for Titan, prompting the company to triple manufacturing production at its facility in San Diego, California. 
Category: Future Trends
Tags: AI-powered counter drone system artificial intelligence C-sUAS Christopher Williams Citadel Future Trends machine learning Titan