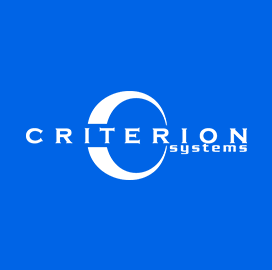 Criterion Systems
Criterion Announces GSA HACS SIN Award
Criterion Systems, an information service management company, announced that it has been awarded the General Services Administration Highly Adaptive Cybersecurity Services Special Item Number 54151HACS.
The federal government awards the HACS SIN to cyber-focused companies after a rigid technical evaluation to more easily access cyber services. It was awarded under GSA's Multiple Award Schedule.
"With this award, Criterion has been recognized as a credible prime contractor, able to provide high quality cybersecurity services across the Federal Government," said Criterion CEO and President Promod Sharma, a Potomac Officers Club member. 
The HACS SIN allows federal agencies to more easily and efficiently procure cybersecurity services that they increasingly need amid the evolving threat landscape. 
It covers vulnerability assessments, security architecture review, systems security engineering and assessment services needed for systems considered as high-value assets. 
The award also includes services such as risk management framework and security operations center services focused on penetration testing, incident response and cyber hunt. 
"Combined with our ISO certifications and CMMI ratings, our Cybersecurity Center of Excellence, and our U.S. patent-pending CyberScale® Compliance and Risk Management solution, Criterion has demonstrated it is a trusted partner for protecting our nation's mission-critical IT environments," Sharma said.
The International Organization for Standardization certification is provided to companies that meet an international standard developed by the organization. CMMI, or Capability Maturity Model Integration, is a process improvement training and appraisal program that defines five maturity levels for processes.  
Criterion is a Virginia-based IT and services company focused on systems integration and cyber operations. It provides cybersecurity, cloud and data center management, IT infrastructure operations and systems engineering. 
Category: Future Trends
Tags: cloud CMMI Criterion Systems cyber hunt cyber operations cyber services cybersecurity Future Trends General Services Administration HACS SIN HACS SIN 54151HACS Highly Adaptive Cybersecurity Service incident response information technology ISO penetration testing POC member Promod Sharma Special Item Number system integration Virginia