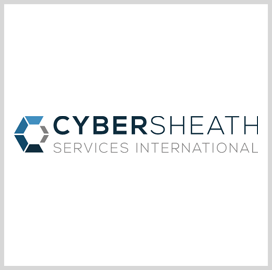 CyberSheath Services
International
CyberSheath Introduces New Compliance Platform for DOD's CMMC Program
CyberSheath Services International has announced CMMCEnclave, a new solution within its managed services in support of the Cybersecurity Maturity Model Certification program.
The CMMCEnclave is a compliance platform that supports optional management of multiple levels of CMMC, the Department of Defense's new cybersecurity standards.
In a statement announcing the new solution, CyberSheath CEO Eric Noonan, a member of the Potomac Officers Club, noted that the company seeks to simplify CMMC compliance so that contractors can remain eligible for winning deals with the DOD.
CMMCEnclave is based on Microsoft Azure, CyberSheath said.
The new solution within the company's CMMC managed services covers all three dimensions of the cybersecurity standards' compliance: information technology, governance, and security.
CMMCEnclave offers custodial security of controlled unclassified information as well as minimizes business interruptions to people, procedures and processes, CyberSheath explained.
The platform was designed to adhere to all of the 130 controls under the CMMC Maturity Level Three and limit organizational CUI sprawl and driving role-based access to CUI.
CMMCEnclave features four use-case commitment levels based on companies' functionality and business needs, including CyberCloud – Hybrid Cloud, an option that segregates users on private network segments with network security boundaries on top of active directory partitioning. The said use-case is designed for customers who seek an affordable cloud platform and need to use custom applications or file services, CyberSheath said.
The Defense Department's CMMC program, which has five maturity levels, requires prime and subcontractors to be certified to ensure that they are able to conduct business with the government.
Category: Member News
Tags: CMMC Managed Services CMMCEnclave compliance platform CyberCloud cybersecurity CyberSheath Department of Defense DoD Eric Noonan Member News Microsoft Azure Potomac Officers Club