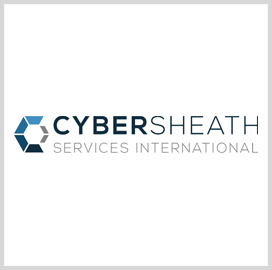 CyberSheath Services
CyberSheath Managed Services to Help Contractors Comply With Cybersecurity Standards
CyberSheath Services has launched managed information technology services to help defense contractors comply with the government's new commercial cybersecurity standards.
CyberSheath Chief Operating Officer Andy Shooman said the solution was built for both prime and subcontractors that do not yet fully understand Defense Federal Acquisition Regulations System requirements.
"Simply put, the new DFARS rules raise the stakes and companies that don't quickly become compliant will be left out of DOD contracts. Our IT managed services ensure that doesn't happen," Shooman added.
The managed IT services will help clients comply with DFARS Clause 252.204-7012, which requires the safeguarding of covered defense information and the reporting of cyber incidents in proportion with the consequences of loss, CyberSheath said.
CyberSheath's framework is also aimed at helping contractors satisfy the National Institute of Standards and Technology's Special Publication 800-171 for "Protecting Controlled Unclassified Information in Nonfederal Systems and Organizations."
The offering also aids in compliance with the Department of Defense's Cybersecurity Maturity Model Certification requirements, the company added.
CyberSheath said its managed IT services suite is built on Microsoft technology and includes a security-as-a-service add-on option upon initial boarding.
The solution uses Azure Government Blueprints, Microsoft 365 Government (GCC High) and the full spectrum of DOD-approved Microsoft security solutions.
Shooman said CyberSheath's managed services have kept up with the slew of cybersecurity compliance changes over the past five years to readily support the defense industrial base.
CyberSheath is an IT security services provider that specializes in strategic security planning. The company offers a suite of offerings designed to meet defense contractors' information security and regulatory compliance requirements.
Category: Future Trends
Tags: Andy Shooman CMMC compliance Cybersecurity Maturity Model Certification CyberSheat CyberSheath Services defense contractor Defense Industrial Base DFARS Future Trends information technology IT managed services Microsoft NIST NIST SP 800-171