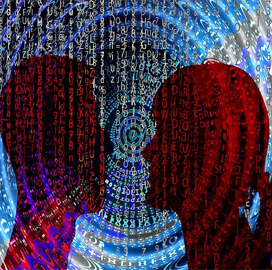 Cyberspace competition
Cyberspace Thought Leaders Attend Cyber Beacon Conference
Top thought leaders and experts on strategic cyberspace issues shared their thoughts about the great power competition at the recently concluded Cyber Beacon Conference, which was hosted by the College of Information and Cyberspace at National Defense University. 
During the conference, one of the event's lead planners, Joseph Billingsley, drew attention to Maj. Gen. Kevin Kennedy, director of operations for the U.S. Cyber Command and a past Potomac Officers Club event speaker, who challenged the audience to think about how the U.S. deals with the evolving strategic and operational environment in cyberspace. 
Participants also heard from the Department of Defense's principal deputy chief information officer, John Sherman, who argued that the U.S. cannot easily guarantee supremacy in cyberspace and global competition considering advantages erode over time, according to an article Defense .gov published.
Senior officials from the Cyberspace Solarium Commission were also present at the event. The commission's executive director, Mark Montgomery, discussed the recommended CSC reforms, which have been adopted by the U.S. government. 
According to an announcement by the CSC, 27 provisions in the National Defense Authorization Act that were directly drawn from the commission's recommendations for improving U.S. cybersecurity posture have been codified into law. 
Some of the recommendations focus on the creation of a Cybersecurity Advisory Committee to advise the Department of Homeland Security and the modification of the acquisition authority of the USCYBERCOM commander.
Meanwhile, Maj. Gen. Kim Crider, mobilization assistant to the chief of space operations and another former POC event speaker, talked to the audience about the importance of fostering an educational pipeline of cyber professionals in support of the Space Force. 
Having a pool of cyber professionals has been a priority for NDU. According to Billingsley, collaboration between the Space Force and CIC has resulted in a new pipeline of students. 
Now in its 7th year, the recent edition of the Cyber Beacon Conference marks the first time it was held virtually.
Category: Speaker News
Tags: College of Information and Cyberspace cyberspace Defense.gov John Sherman Joseph Billingsley national security Kevin Kennedy Kim Crider Mark Montgomery National Defense Strategy National Defense University Speaker News